CD Review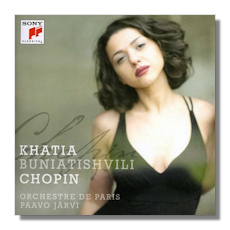 Waltz in C minor, Op. 64 #2 (B 164)
Sonata for Piano #2 in B Flat minor, Op. 35 (B 128)
Ballade #4 in F minor, Op. 52 (B 146)
Concerto for Piano #2 in F minor, Op. 21 (B 43) *
Mazurka in A minor, Op. 17 #4
Bonus Video: Warsaw - Paris (A short film conceived by and featuring Khatia Buniatishvili)
Khatia Buniatishvili, piano
* Orchestre de Paris/Paavo Järvi
Sony Classical 88691-97129-2 71m

The Chopin Album
Etudes, Op. 25 #1-12
#1 in A Flat Major
#2 in F minor
#3 in F Major
#4 in A minor
#5 in E minor
#6 in G Sharp minor
#7 in C Sharp minor
#8 in D Flat Major
#9 in G Flat Major
#10 in B minor
#11 in A minor "Winter Wind"
#12 in C minor
Nocturne in E Flat Major, Op. 55, #2
Nocturne in F Major, Op. 15 #1
Grande Valse Brillante in E Flat Major, Op. 18 #1
Andante spianato & Grande Polonaise
Nocturne in C Sharp minor, Op. Posth. (KK IVa #16 20a)
Waltz in D Flat Major "Minute Waltz", Op. 64 #1
Etude in E Major "Tristesse", Op. 10 #3 (Oh Land version) *
Lang Lang, piano
* Oh Land, singer
Sony Classical 88725-48960-2
Sony Classical has been investing considerable resources in the careers of both these pianists, at least their careers in the recording studio. Lang Lang, of course, is a superstar already, but Buniatishvili is still on her way up. If I can judge from her two Sony CDs, I'd say she stands a good chance of joining Lang Lang as one of the foremost pianists of the younger generation.
I reviewed Ms. Buniatishvili's first Sony CD last year here at Classical Net (Sony 76604). It was a disc devoted to music by Liszt, and I found her style spectacular, riveting, a virtuosic tour de force. Her way with Chopin is similar, but there is more of an ethereal lift to the music, more elegance in the phrasing and a little more raw emotion, especially when the music turns sad, which is often the case in these selections. Actually, Buniatishvili's Chopin has much the same mixture of freneticism, gracefulness and drama as Argerich's. Both pianists employ very fast tempos and both often sacrifice a measure of articulation to achieve a gossamer sort of effect.
Buniatishvili's Second Sonata features a deft mixture of agitation and lyrical beauty in the first two movements. The third is a bit more stately and somber than Argerich's account, and the finale is ghostly in its breathless, zig-zagging whispers. This is one of the more compelling accounts of the sonata among the dozen or more in my collection. The Second Concerto is perhaps the fastest version I've ever heard. Even the speedy Argerich in either her Rostropovich (DG) or Dutoit (EMI) version is a minute or so behind. Despite the headlong tempos Buniatishvili manages to impart a convincing fiery passion to the first movement. True, she may sacrifice some of the lyrical character, especially in the rendering of the lovely alternate theme, but overall her performance achieves white-heat intensity that grips you from beginning to end. The second and third movements are just as successful and Paavo Järvi and the Orchestre de Paris offer excellent support. In the end, one must assess this as one of the finest and most imaginative accounts of this concerto in recent times.
The other pieces here, most notably the Ballade #4, are given splendid performances as well. The short bonus video selection features Ms. Buniatishvili boarding a train, taking a bath with her gown on and totally submersing herself, frolicking on a beach, enjoying a children's swing set, and, not surprisingly playing the piano. It's all done as a way to present a sad account of Chopin's departure from Poland for France. He would die in France as a political exile in 1849, never having seen Poland after 1830. You will apparently have to place the CD in your computer disc drive to play the video. Buniatishvili also had a bonus video with her recent Liszt CD. While these video features are interesting, if a bit odd, you'll clearly want the disc more for its musical performances. The sound reproduction is vivid and the album notes (some by the pianist) are informative.
Lang Lang offers a far different view of Chopin, in part because he has chosen much more optimistic music from the composer's output. Lang plays with a fairly steady legato, with more muscle and with a generally straightforward approach. The Op. 25 Etudes are relatively bright pieces and lead off the disc. #3 in F comes across mostly as big and bold, and the ensuing A minor etude has the same sort of audacious character but, appropriately, with more energy. The playfulness of #5 in E minor becomes a little heavy-handed, but for the most part the gentler and more subtle pieces in the set are well played, as with #7 in C Sharp minor, the longest and perhaps most substantive etude. #10 in B minor may be a little too slow in the middle section but the outer sections are stormy and thrilling.
Lang captures the serenity and beauty of the E Flat Major Nocturne (Op. 55, #2), despite a bigger sound than one is accustomed to. His gentle reading of the F major Nocturne (Op. 15, #1) is lovely and quite sensitive in the outer sections, even if the tempo is a tad slow. The Grande Valse Brillante finds Lang at his best: the music is both elegant and playful, brimming with bright colors amid wide-ranging and deftly employed dynamics. A treasure! His reading of the Andante Spianato & Grande Polonaise is also quite convincing in its subtle contrasting of the intimate moods of the Andante first half with the brighter, livelier character of the Grande Polonaise.
The "Minute Waltz" brims with color and energy and the other pieces here are given fine performances as well. The closing item is a rather saccharine song version of Tristesse (Op.10, #3) by Danish singer and songwriter Oh Land (Nanna Øland Fabricius). With Lang as accompanist, she sings well enough, but with a voice and style more suited to Pop music. The piano sound is excellent on this disc, except for Tristesse, for which Lang seems to be playing at a distance.
So, whose Chopin disc is the better? Buniatishvili goes out on more limbs and is more imaginative. Lang presents a somewhat traditional approach while often conveying a boldness of expression in dynamics and tempo. Both display considerable technical skills and each one presents entirely different Chopin repertory. One must assess both discs as solid successes on their own terms, but if I have to select one as the more intriguing, I'll take the Buniatishvili album.
Copyright © 2012, Robert Cummings