CD Review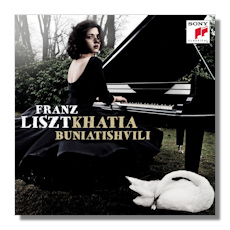 A Faustian Dream
Liebestraum #3 in A Flat Major, S. 541/3
Piano Sonata in B minor, S. 178
Mephisto Waltz #1, S. 514
La Lugubre Gondola #2, S. 200/2
Prelude & Fugue in A minor, S. 462/1 (after J.S. Bach, BWV 543)
Khatia Buniatishvili, piano
Sony Classical 88697-76604-2 w/ Bonus DVD: A Faustian Dream (Excerpts - Sonata in B minor)
On the cover of this album is one of those promotional stickers added after publication. It contains comments about the pianist, wherein words like "sensational", "breathtaking", and "manic" promise a great talent discovery. A bit skeptical, I opened the album booklet and noticed the timing of the Liszt Sonata was thirty-two minutes, and thought this would be yet another somewhat ponderous, but probably skilled account of this Liszt staple.
I then listened. Octaves hurtled at Argerichian speed and Horowitzian power, bass notes thundered as if to gain notice from a Richter magnitude scale, demonic intensity infused the more agitated passages, and gripping passion permeated Liszt's lyrical and emotional outpourings. Every note seemed to say something: inner voices were often boldly italicized, but with purpose not with random whim, and the plentiful tempo shifts always made musical sense.
Khatia Buniatishvili (b. 1987, in Tbilisi, Georgia) was a prizewinner at the 2008 Artur Rubinstein Piano Competition in Israel and is a student of Oleg Maisenberg. She is clearly one of the most gifted pianists of her generation. In her stunning performance of the sonata, she goes out on more limbs than I can count, both interpretively and technically, and nearly always hits her target, making this a spectacularly thrilling and totally convincing account.
The first octave passage in the Sonata, with those thorny leaps, was taken at a phenomenal speed, as were the other octave passages, including the Prestissimo near the end. Okay, I know, we're too sophisticated to be enthralled by technique any more, even extraordinary technique. Well, take note: you will be impressed by this kind of miraculous playing. This is superhuman technique in the service of imaginative and utterly inspired interpretation. I won't claim this to be the definitive Liszt B minor – nothing can be definitive, actually. And I recognize this won't be the Liszt B minor for everyone, certainly not one for the faint of heart. But it is an experience to behold – Liszt played with more intensity, more guts, more risk-taking than you're likely to encounter in any other performance or recording. Period. You may find a few passages not to your liking, and regard some of the playing as over-the-top, but you cannot deny this is one of the boldest and most original accounts of this masterwork ever put on record. Indeed, you can only sit and listen, astonished.
Argerich, Horowitz, Watts (his 1970 effort now on Sony, not the 1985 EMI), Duchable, Howard, and a few others have made fine recordings of this work, but my preference for the moment – and maybe for some time to come – is Buniatishvili.
The Mephisto Waltz gets a thrilling performance as well, surpassing my previous favorite by Janina Fialkowska. The Lugubrious Gondola #2 is also splendidly played: Buniatishvili fully grasps the darker side of Liszt, capturing both the profound and morbid aspects of this disturbing late work. Brendel is convincing here too, but one must lean toward Buniatishvili. Her account of the pleasant Liebestraum #3 was fine, though I wish she had chosen a more substantive piece. And her Prelude and Fugue after Bach was also splendidly realized. Sony's sound reproduction is excellent.
The bonus DVD, which features Ms. Buniatishvili's film, A Faustian Dream, is but a few minutes long and offers brief excerpts from the Sonata. Buniatishvili is shown both playing the piano and portraying Faust, Marguerite and Mephistopheles, characters from the Damnation of Faust. The pianist sees a connection to Faust in the Sonata, but I'm not sure her four-minute film, with its ethereal and dark sense, conveys much beyond some basic ideas expressed in the album notes. No matter, Lisztians and keyboard mavens will want Buniatishvili's debut album for the scorching performance of the Liszt B minor and the other works. Highest recommendations!
Copyright © 2011, Robert Cummings