Blu-ray Review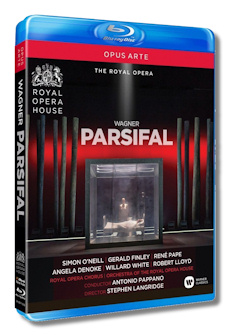 Parsifal
Parsifal - Simon O'Neill
Kundry/Voice from Above - Angela Denoke
Gurnemanz - René Pape
Amfortas - Gerald Finley
Klingsor - Willard W. White
Titurel - Robert Lloyd
First Grail Knight - David Butt Philip
Second Grail Knight - Charbel Mattar
First Esquire - Dušica Bijelič
Second Esquire - Rachel Kelly
Third Esquire - Sipho Fubesi
Fourth Esquire - Luis Gomes
First Flower Maiden - Celine Byrne
Second Flower Maiden - Kiandra Howarth
Third Flower Maiden - Anna Patalong
Fourth Flower Maiden - Anna Devin
Fifth Flower Maiden - Ana James
Sixth Flower Maiden - Justina Gringyte
Royal Opera Chorus
Orchestra of the Royal Opera House/Antonio Pappano
Director - Stephen Langridge
Designs - Allison Chitty
Lighting Designs - Paul Pyant
Recorded live at the Royal Opera House, Covent Garden on December 5, 11 & 18, 2013
Bonus Features - Interviews with Antonio Pappano and Simon O'Neill
Opus Arte Blu-ray OABD7159D 2Discs PCM Stereo DTS-HD Master Audio
Regular readers of Classical Net who have followed my Wagner reviews over the years will know that this iconic composer's operas have been, especially in the last decade or so, routinely subjected to updated or reinterpreted stagings. In extreme cases, like the 2008 Bayreuth production of Die Meistersinger issued on Opus Arte, the story is changed into something entirely at odds with Wagner's. Ironically, that Bayreuth effort was a production of Katharina Wagner, great-granddaughter of the composer, who turns Wagner's art against him in the production by tying him to Fascism and the Third Reich (even though he died a half century before Hitler's rise). Although some might argue that Wagner deserves such treatment (he was vehemently anti-Semitic, after all, and his ideas and operas may have had some influence on the Nazis), the point is artistically moot, because in such instances you're watching, in effect, a different work. It's almost like taking Tristan und Isolde and changing it into Bonnie and Clyde.
This Royal Opera production of Parsifal by Stephen Langridge doesn't change the story in that kind of radical manner, but there are nonetheless some striking liberties taken. As the attire and modern-looking sets attest, we're updated to current times – not necessarily a bad thing in the right production. Speaking of attire, the garishly mini-skirted and sexually aggressive flower maidens attempting to seduce Parsifal in Act II impart a colorful but overly anachronistic character to the scene. Indeed, in an opera dealing with the Holy Grail and all sorts of theological and moral issues, Las Vegas style hooker-types don't fit in well – or maybe they do fit in well, but just seem out of place. Hmmm… A few other things are a bit odd too. When Kundry first appears she is bald – yes, bald – but otherwise feminine looking. As the opera progresses she grows hair, which I suppose symbolizes her gradual return to dignity and humanity. In Act I the wounded Amfortas lies in his sick bed in a sort of hospital-room cubicle at the center of the stage and is attended by a score of white-coated, surgical-masked healthcare workers. The sense of isolation created by this cubicle obviously suggests alienation. But some in the UK actually saw this as some kind of statement about the National Health Service! The castle of the brotherhood of the Holy Grail has a sterile space-age look, and the Holy Grail is represented by a young boy, who is wounded in the side by Amfortas, apparently to make him a symbol of Christ. Yes, it's a modern and arguably somewhat confused or overly ambitious take on the opera, but the story essentially remains intact, and in the end holds together rather well.
But, you ask, how are the singers? René Pape is simply excellent as Gurnemanz, both vocally and dramatically. Gerald Finley as Amfortas is perhaps on his level too: vocally he is excellent; dramatically he is even better than excellent. When he comes on stage in the last act using a walker and then later sings over the corpse of his father, he is totally arresting. Bravo! Simon O'Neill as Parsifal also turns in fine work. Angela Denoke has a strong stage presence and a good sense for drama: when she is bald or wearing a garish red-haired wig she is able to make her appearance seem less a distraction than I could ever imagine. That said, her vocal assets won't match those of Waltraud Meier in the role of Kundry, but she is nevertheless quite fine. I should mention that at the end of the opera Denoke transforms into a blond – more symbolism! Are blondes more moralistically pure or consequential? The rest of the cast is generally convincing.
Sir Antonio Pappano leads a reasonably strong performance from the pit. The orchestra and chorus perform admirably under his direction. Pappano has been criticized for his uneven sense of line in Wagner operas, but here, with generally expansive tempos, he makes a rather good case for his approach, even if he is not always fully convincing. In the last act, for instance, his pacing was perhaps a bit too deliberate in places. The sound reproduction, camera work and picture clarity are all first rate. As for recommendations… I have reviewed two other video performances of Parsifal here at Classical Net: the excellent if somewhat strange Kent Nagano-led effort on a BBC Opus Arte DVD, that featured Waltraud Meier as Kundry (BBC Opus Arte OA0915D), and the Wolfgang Wagner production on a Unitel Classica/C Major Blu-ray disc led by Giuseppe Sinopoli (Unitel Classica/C Major 715804). Both were very fine efforts, with the Nagano having an edge musically and the Sinopoli having the better production. This new effort compares favorably with the other two, owing in large part to the excellent performances by René Pape and Gerald Finley. By the way, the bonus feature not only includes interviews with Pappano and O'Neill on the second track, but commentary by Finley, Pape, Denoke and others on the first, as well as rehearsal scenes. For Wagnerians, this Parsifal is a worthy acquisition.
Copyright © 2015, Robert Cummings