Blu-ray Review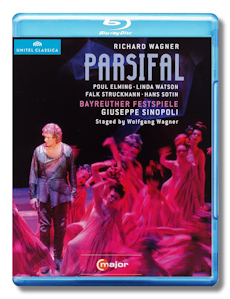 Parsifal
Parsifal - Poul Elming
Kundry - Linda Watson
Amfortas - Falk Struckmann
Gurnemanz - Hans Sotin
Klingsor - Ekkehard Wlaschiha
First Knight - Richard Brunner
Second Knight - Sändor Sólyom-Nagy
First Squire - Sara Fryer
Second Squire - Jane Turner
Third Squire - Helmut Pampuch
Fourth Squire - Peter Maus
Bayreuth Festival Orchestra & Chorus/Giuseppe Sinopoli
Stage director - Wolfgang Wagner
Costume Design - Reinhard Heinrich
Recorded live at the Bayreuth Festival - July 6-13, 1998
Unitel Classica/C Major Blu-ray 715804 268m LPCM Stereo DTS-HD Master Audio
I suppose, for many, the main selling point of this Parsifal will be the conductor, Giuseppe Sinopoli. Some will say he has developed a cult following since his premature death in 2001, at age 54. But "cult following" suggests a somewhat limited stature: Sinopoli was a major conductor in his time, widely recognized for his extraordinary talent in both opera and symphonic repertory. He was also a noted composer. However, it would be inaccurate to suggest that Sinopoli's conducting was without controversy: he was generally known for his slow tempos and sometimes eccentric phrasing. This Parsifal is slowly paced, about a half-hour or more longer than many other, more standard performances. That said, it is not extreme in tempo selections, as more than a few other conductors have paced it similarly. Moreover, Sinopoli shapes the work thoughtfully and imaginatively and draws excellent performances from his singers. This 1998 Bayreuth production was justly praised at the time of its staging and when it was issued on DVD in 2011. This new Blu-ray issue should draw even more admirers of this fine production.
For traditional Wagnerians, this Parsifal will have strong appeal as the stage director and set designer is none other than Wagner's grandson Wolfgang Wagner. Characters keep their clothes on, makeup isn't weird looking, lighting isn't overwhelming or psychedelic, and costuming is relatively modest and rather appropriate. That said, the overall visual aspects, while imparting effective atmosphere appropriate to the story, also convey at times a modern look: after Gurnemanz and Parsifal arrive at the castle of the brotherhood of the Holy Grail in Act I, you'll notice a sort of medieval grandness to the large hall alright, but also a space-age kind of appearance to both Titurel's octagonal (stone) table and the odd-shaped entrance way behind it. Also, take note of the large bluish oblong blocks that form walls or pillars surrounding the hall and, in the opening of Act 2, Klingsor's creepy castle, which looks more like a B-movie dungeon. There are other such modern aspects, but in the end, Wolfgang Wagner's contribution to this staging works quite nicely and is more traditional than modern.
As for the singers, Falk Struckmann sings Amfortas about as well as one could ever wish. Linda Watson sings beautifully too: try her splendid Act 2 Ich sah das Kind an seiner Mutter Brust. True, her Kundry is dramatically at times a bit over-the-top in facial expression, but this is a minor fault in a performance of general excellence. Poul Elming is quite fine as Parsifal, embodying a sense of heroic youthfulness in his demeanor while projecting a commanding vocal presence on stage. Fine also are Hans Sotin as Gurnemanz and Matthias Hölle as Titurel. The rest of the cast is more than adequate as well.
I've already spoken of Sinopoli, but let me add that he draws quite committed and spirited playing from the Bayreuth Festival Orchestra and very good singing from the Bayreuth Chorus too. The camera work is excellent, as is the picture clarity, considering the sixteen year age of the performance. Sound reproduction too is clear and powerful. I reviewed another Parsifal here in 2005 on the BBC Opus Arte label (OA0915D) and found it excellent. However, that performance featured some weird costumes and other modern touches that may not endear it to traditionalists. Nagano is more than 35 minutes faster than Sinopoli (after deducting the BBC Opus Arte bonus feature) and thus offers a rather opposite view of the opera in terms of tempo. Nagano's cast is, like this one, splendid. Thus, you could call it a toss-up between these two recordings, I suppose, but the slightly more convincing staging by Wolfgang Wagner causes me to marginally favor the Sinopoli. Highly recommended!
Copyright © 2014, Robert Cummings