DVD Review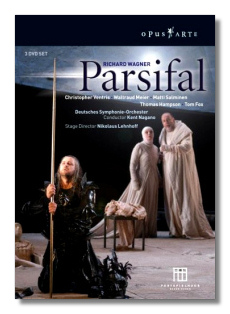 Parsifal
Parsifal: Christopher Ventris
Kundry: Waltraud Meier
Gurnemanz: Matti Salminen
Amfortas: Thomas Hampson
Klingsor: Tom Fox
Titurel: Bjarni Thor Kristinsson
Festspielchor, Baden-Baden
Deutsches Symphonie-Orchestra Berlin/Kent Nagano
Nikolaus Lenhoff, stage director
Raimund Bauer, set design
Thomas Grimm, television director
BBC Opus Arte OA0915D 3DVDs LPCM Stereo; DTS Anamorphic Widescreen 317min
This is as lavish and successful a production in all aspects as one could want. Put simply, it is interpretively, vocally, instrumentally, visually and audibly a most impressive performance of Wagner's final opera. Granted, like so many Wagner productions today, there are a few weird aspects here: Tom Fox's Klingsor looks more like an exotic clown, almost like a caricature of a character in an Akira Kurasawa film; Titurel is costumed as an ugly reptile; and Kundry's fur-like, blood-spattered outside, though ingeniously appropriate to her animal-like writhing and generally outcast character, looks a bit unsettling at first, somewhat out of place. Also, in the last act there are railroad tracks leading toward light, which, at the end, Parsifal and Kundry depart on toward some unknown destination.
While all the principals sing impressively in this recording, it is conductor Nagano who is the hero here. His generally brisk tempos, unerring sense for drama and his ability to point up crucial orchestral detail impart a feeling of urgency, of tension, of passion to the proceedings. The more ponderous approaches are less effective for me. This opera is long and ponderous enough, and though there is much depth to plumb, the tempos, to me, must move along. Some may prefer Karajan or even Knappertsbusch, but I'll take Nagano and this brilliantly colorful production.
As suggested above, the singers are quite good, with the four principals – Christopher Ventris, Matti Salminen, Waltraud Meier and Thomas Hampson – coming across especially well. Recorded live at the Festspielhaus in Baden-Baden, on August 4, 6 and 8, 2004, this production is one of the finest of any opera on DVD. If you love Wagner, you'll want this splendid recording. Highest recommendations!
Copyright © 2005, Robert Cummings