Related Links
Recommended Links

Site News
CD Review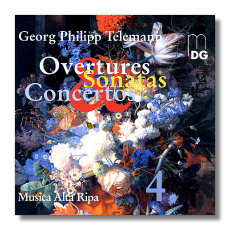 Overtures, Sonatas & Concertos, Volume 4
Concerto in G Major for 2 Violins, Viola & Continuo, TWV 43:G5
Ouverture in E Major for Oboe d'amore, 2 Violins, Viola & Continuo, TWV 55:E2
Concerto in B Flat Major for 2 Recorders, 2 Violins, Viola & Continuo, TWV52:B1
Sonata in D Major for Violin & Continuo, TWV 41:D1
Concerto in A minor for Recorder, Oboe, Violin & Continuo, TWV 43:a3
Musica Alta Ripa
Dabringhaus und Grimm MDG3091384-2 DDD 60:34
Also see: Volume 1 | Volume 2 | Volume 3
Apart from J.S. Bach, Georg Philip Telemann is the most prolific German composer of the baroque era. And with good reason too, as he lived to the ripe old age of 86 and up to the very end, he remained as active as ever.
Ever since he was a boy, Telemann already possessed an insatiable 'addiction' for music and he revelled in the exploration of contemporary instruments, in spite of his inability to read the written notes. This strong urge contributed to the emancipation of several instruments that before him, had never enjoyed the popularity they deserved. A prime example is the Concerto in A minor, TWV 43 a tre' where Telemann gives the oboe, recorder and violin, the chance to form a supreme musical band to exchange themes and motifs in a masterful fashion and then 'to sing their own praises' in virtuoso solos.
The composer's utter fascination with the contrasting styles of Italy and France was always the driving force behind most of his pieces, a taste fortunately shared by Count Erdmann II Von Promitz, his employer and one of his most influential mentors.
The Eisenach Court Orchestra of Duke Johann Wilhelm was also French oriented and it was here that Telemann composed the Overture in E and the Concerto in B flat for two recorders, strings and basso continuo, two uniquely typical pieces of German baroque music.
The exquisite Violin Sonata in D and Concerto in B flat for 2 recorders, strings and basso continuo complete this superb fourth instalment in the MD&G Telemann odyssey. Musica Alta Ripa's performances are as inspirational as they are consistently pleasurable. A superb CD in excellent sound and presentation.
Copyright © 2007, Gerald Fenech