Related Links
Recommended Links

Site News
CD Review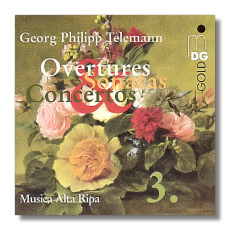 Overtures, Sonatas & Concertos, Volume 3
Concerto TWV 43: D4
Sonatina TWV 41:C2
Concerto TWV 43: G3
Sonatina TWV 41:94
Overture TWV55:F2
Sonate Corelli-Sante TWV 42:H3
Musica Alta Ripa
Dabringhaus & Grimm MDG3091314-2 58m DDD
Also see: Volume 1 | Volume 2 | Volume 4
This is MD&G's third volume dedicated to the Chamber music of Georg Philip Telemann. Like the first two issues, this disc contains some wonderfully inventive music from this German contemporary of J.S. Bach and Handel. Telemann was famous for his instrumental works and today there is still strong fascination for a variety of his compositions. He wrote important and very often innovative works in almost all the genres of his day and he even had the drive to publish some of them himself.
This volume contains the Sonate Corelli-Sante TWV 42:H3, a work from a collection published in 1735 in Hamburg dedicated to the great Italian composer, Arcangelo Corelli. Telemann was always a great admirer of the Italian master and in his younger days, he modelled his sacred and instrumental works on those of Corelli.
The Sonata on this disc is the third of six that make up this collection and there is so much information on these works, that lack of space restricts further comments. So I suggest you delve into the excellent annotations by Ute Poetsch translated by J & M Berridge.
The interpretations by the relatively young ensemble, Musica Alta Ripa (founded in 1984) are absolute gems full of colour, flexibility and very often; brilliant virtuosity. Added to this array of abilities are their instinctive affinities to the drama and tension that lie beneath the surface of these quite unique baroque compositions. Telemann does not only entertain, he very often makes us think deeply on the mysteries of our very existence. What is so beautiful about him is that he manages to achieve this with relatively simple means. I am keenly looking forward to Volume 4 in this fine series.
Copyright © 2005, Gerald Fenech