Related Links
Recommended Links

Site News
CD Review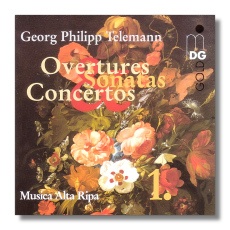 Overtures, Sonatas & Concertos, Volume 1
Sonata for 2 Violins, Viola & Continuo, TWV 43:F1
Concerto for Recorder, 2 Violins, Viola & Continuo, TWV 51:C1
Overture for 2 Violins, Viola & Continuo, TWV 55:fis
Quadro Sonata for Recorder, Violin, Viola & Continuo, TWV 43:g4
Concerto for Viola Solo, 2 Violins, Viola & Continuo, TWV 51:G9
Musica Alta Ripa
Dabringhaus & Grimm MDG3091189-2 66m DDD
Also see: Volume 2 | Volume 3 | Volume 4
This disc is billed as 'Concertos and Chamber Music - Volume 1' and on this evidence, it will most definitely be a fine series. Musica Alta Ripa have already given us several excellent discs in this sort of repertoire and are obviously some sort of an authority in Telemann's music and style of interpretation.
The main works here are definitely the Concerto in C and the burgeoning Overture in F Sharp Major, a clear demonstration of the style in those days. Musica Alta Ripa play with great verve and understanding of this music especially in the Badinerie and Courante, pieces reminiscent of Bach's own famous Suites.
So there is much to enjoy here, especially for the seasoned baroque enthusiast. A shapely Quadro and F Major Sonata also have their moments whilst the concluding Concerto in G is very pleasant to listen to. Musica Alta Ripa's performances are crisp and finely elucidated in the usually excellent MD&G sound.
Copyright © 2003, Gerald Fenech