Blu-ray Review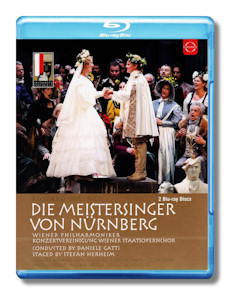 Die Meistersinger von Nürnberg
Hans Sachs - Michael Volle
Walther von Stolzing - Roberto Saccà
Eva - Anna Gabler
David - Peter Sonn
Veit Pogner - Georg Zeppenfeld
Magdalene - Monika Bohinec
Sixtus Beckmesser - Markus Werba
Kunz Vogelsang - Thomas Ebenstein
Konrad Nachtigall - Guido Jentjens
Vienna State Opera Chorus
Vienna Philharmonic Orchestra/Daniele Gatti
Recorded live at the Salzburg Festival, August 2013
Stefan Herheim, stage director
Heike Scheele, set designer
Gesine Völlm, costume designer
Olaf Freese, lighting designer
Bonus - Making of Die Meistersinger von Nürnberg
EuroArts/Unitel Classica Blu-ray 2072684 2 Discs 270m+15m PCM Stereo DTS-HD Master Audio
As is the case with so many Wagner opera productions today, this one from the 2013 Salzburg Festival is quite unusual: even before the Prelude starts a grandfatherly man comes on stage in nightgown and nightcap, sits down at his desk, picks up a quill and begins work or revisions on a music score. Well, he looks like Wagner, I thought, and his actions might initially suggest that he represents Wagner. But then, you realize it's baritone Michael Volle, who portrays the opera's lead character, Hans Sachs, in this production. (The historic Hans Sachs wrote music of his own, reportedly thousands of songs.) Soon the Prelude starts and then Sachs begins agonizing over his score as he examines its pages. Near the end of the Prelude he uncovers a cradle on the right side of the stage and finds some toys there that he begins playing with. This all lays the foundation for the opera's concept: the story takes place in a fantasy or dream world, as sets are made up of huge, sort of Jack-in-the-Beanstalk furniture and other oversized objects and structures. The chorus delivers the opening number atop the scene's centerpiece – a gigantic desk, actually a blowup of Hans Sachs' desk. Huge books on it or nearby are used as steps for the characters. You begin to realize that the dream world the opera takes place in is the mind of Hans Sachs.
As strange as all this might sound the production strikes you as fairly traditional-looking as costumes are of the period (Renaissance era) and the story of Walther winning the master singers' contest as well as the hand of Eva remains intact. Actually, Stefan Herheim's take on the story fits the libretto well in just about every respect, and in addition there is much else beneath the surface here in regard to art. Symbols of German literature, for example, are represented by oversized books: when David explains the contest rules, a huge book of Achim von Arnim's Des Knaben Wunderhorn is brought on stage and characters literally emerge from it onto the stage. Well, I could go on further about Herheim's interpretation of this Wagner masterwork, and it's all very charming and even stimulating – stimulating but ultimately icing on a cake that is already tasty. Indeed, I'm not sure those watching this video production will derive much from the plentiful symbolism, but they will enjoy the opera for its "actual" story and won't find the fantasy elements out of place. By the way, several scenes are quite lavishly staged: the last scene, which features the singing contest, must involve a hundred or so performers, some of whom are in place on two levels above the stage.
The performances are excellent. The Vienna Philharmonic plays splendidly, as you would expect, and the tempos of conductor Danielle Gatti are well chosen and his phrasing sensitively shaped. The singers are also quite fine. Michael Volle makes about as strong an impression in the role of Sachs as just about anybody I've seen. Try his Act III Wahn! Wahn! Überall Wahn! for an intense and dramatically subtle account of this number. Anna Gabler is charming in the role of Eva: she possesses a beautiful voice and rarely misses the subtler aspects of the role, typically conveying a world of feeling in her facial expressions. Markus Werba as Beckmesser is also quite convincing: try his Act II Serenade (Den Tag seh ich erscheinen), where his vocal excellence is matched by his marvelous dramatic skills and deft sense for comedy. Also, his clever comic skills are again in evidence in the Act III singing contest. Roberto Saccà's Walther is also very good: try either version of Morgenlich leuchtend in rosigem Schein, from the last act. Peter Sonn must also be singled out for his splendid portrayal of David and the remaining cast members are consistently fine throughout.
The camera work and picture clarity are excellent on this 2-disc Blu-ray issue and the sound reproduction is clear and powerful. I've reviewed three other Meistersingers here: the 1995 Deutsche Oper Berlin production on Arthaus Musik with Rafael Frühbeck de Burgos conducting (Arthaus Musik 100153), the 1999 Bayreuth Festival Barenboim-led version (EuroArts 2072358, reissued in 2008), and the 2008 Vienna State Opera production led by Christian Thielemann (Medici Arts 2072488). There's also an excellent though very controversial 2008 account on Opus Arte, led by Sebastian Weigle and directed by Katharina Wagner, great-grandaughter of the composer. This latter version won't please traditionalists and even many open-minded viewers may find its take on the story over-the-top. The Thielemann and Frühbeck de Burgos accounts are certainly strong and worthwhile, but the Barenboim and this new Daniele Gatti-led Meistersinger share honors for the best video versions. That said, the Barenboim is fifteen years old and those wanting state-of-the-art sound and picture quality may choose to opt for this excellent version on EuroArts/Unitel Classica. Metropolitan Opera general manager Peter Gelb was so impressed with this version when he saw it he reportedly made preliminary arrangements for it to be brought to the Met. Highly recommended.
Copyright © 2014, Robert Cummings