DVD Review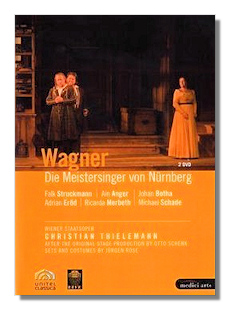 Die Meistersinger
Falk Struckmann - Hans Sachs
Ain Anger - Veit Pogner
Alexander Kaimbacher - Kunz Vogelgesang
Adrian Eröd - Sixtus Beckmesser
Johan Botha - Walther von Stolzing
Michael Schade - David
Ricarda Merbeth - Eva
Michaela Selinger - Eva's Nurse
Orchestra & Chorus of the Vienna State Opera/Christian Thielemann
Medici Arts DVD 2072488 LPCM Stereo Dolby Digital DTS
This is the third Meistersinger I have reviewed here at Classical Net. The other two were the Barenboim on EuroArts, from 1999, with Robert Holl as Hans Sachs, and the Rafael Frühbeck de Burgos on Arthaus, from 1995, with Wolfgang Brendel in the lead. I also reviewed the second Solti, on Decca, for another concern. The Solti was a CD set, but the others were DVD issues. Who wins?
Well, first they were all pretty good, but Solti probably had the edge, not least because he had Ben Heppner as Walther, José van Dam as Sachs and Karita Mattila as Eva. But then if you"re looking for a DVD of this opera, Solti of course won't do. This Medici Arts offering is quite good and features strong singing from all the principals. I especially liked Michael Schade as David, and Johan Botha's Walther was also brilliant. His Morgenlich leuchtend in rosigem Schein was nicely sung, and throughout the opera he turned in fine work. But the real star was Falk Struckmann as Hans Sachs. How can this opera really succeed without a strong singer in that role? Struckmann delivered charisma, and, come to think of it, so did Adrian Eröd as Beckmesser, a most colorful villain here.
Christian Thielemann leads the proceedings with a knowing baton, imparting spirit and color to the playing and choral parts. The only thing I found slightly bothersome was Thielemann's somewhat exaggerated dynamics. In the overture, to cite the most obvious example, he leads the main theme with less a sense of majesty than is customary: after the four emphatic chords at the outset of this glorious theme, he drops the dynamics down quite low, but then with the ascending notes that follow, gradually brings back greater heft. In this respect, he conducts the theme unlike anyone else I've heard before. But I suppose this is a minor quibble, because he really does conduct with true Wagnerian spirit. In the end, he must be credited with a fine interpretation of this Wagner masterpiece. That said, I'd give Barenboim the edge. Still, because the production values (staging, sets, lighting, costumes, etc.) are high and the sound reproduction and camera work are fine, this Medici Arts Meistersinger must be counted as a worthwhile entry among current DVDs of Die Meistersinger. Recorded live at the Vienna State Opera – 1/19 & 1/23, 2008. Based on a stage production by Otto Schenk. Recommended.
Copyright © 2009, Robert Cummings