Related Links
Recommended Links

Site News
DVD Review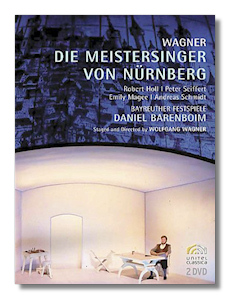 Die Meistersinger
Hans Sachs - Robert Holl
Veit Pogner - Matthias Hölle
Kunz Vogelgesang - Bernhard Schneider
Konrad Nachtigall - Roman Trekel
Sixtus Beckmesser - Andreas Schmidt
Fritz Kothner - Hans-Joachim Ketelsen
Balthasar Zorn - Torsten Kerl
Ulrich Eisslinger - Peter Maus
Augustin Moser - Helmut Pampuch
Hermann Ortel - Sándor Sólyom-Nagy
Hans Schwartz - Alfred Reiter
Hans Foltz - Jyrki Korhonen
Walther von Stolzing - Peter Seiffert
David - Endrik Wottrich
Eva - Emily Magee
Magdalene - Birgitta Svendén
Ein Nachctwächter - Kwangchul Youn
Sonderchor & Tanzgruppe der Bayreuther Festspiele
Orchester der Bayreuther Festspiele Chor der Bayreuther Festspiele/Daniel Barenboim
Live performance, Bayreuth Festival, June 21-30, 1999
EuroArts 2072358 2DVDs 274min Dolby Digital DTS Widescreen Anamorphic
Die Meistersinger is easily among my favorite Wagner operas, ranking perhaps with Tristan und Isolde, a work so different in temperament I wonder how I can speak of it in the same sentence with Wagner's comic masterpiece. Yet they are favorites of mine, and would wind up on a desert-island list, along with Puccini's Madama Butterfly, Verdi's Rigoletto and Otello, Prokofieff's War and Peace and The Fiery Angel, and perhaps Britten's The Turn of the Screw. Have I forgotten anything?
This Die Meistersinger is an excellent one and offers further evidence that Daniel Barenboim is a splendid Wagner conductor. In general, Wagner operas depend a little more heavily on the conductor than do those by other composers, and Barenboim carries the load well here, with judicious tempos, a good sense for orchestral color and balance, and a deft ability to inspire his singers to turn in thoroughly compelling performances. Hans Sachs here is veteran Robert Holl and he's just fine throughout. But I think it's Emily Magee as Eva and Peter Seiffert as Walther who really win over the listener. Magee is radiant and utterly charming in her second act "duet" with Sachs (Gut'n abend, Meister), and Seiffert's Morgenlicht leuchtend im rosigen Schein is both enchanting and powerful, deftly capturing both light Wagner and epic Wagner together in this brilliant number.
The production, by Wagner's grandson, Wolfgang Wagner, is visually stunning, at least by modern standards. The costumes are colorful and completely appropriate, rounding out what can be described as an excellent traditional staging of Die Meistersinger. The sound reproduction and camera work are also first-rate. I reviewed a Meistersinger in 2004 here at Classical Net, a performance led by Rafael Frühbeck de Burgos (Arthaus Musik 100153). It featured Wolfgang Brendel as Sachs, Gösta Windbergh as Walther and Eva Johansson as Eva. It was a fine offering, but this newer Barenboim version is the better of the two. Highly recommended.
Copyright © 2008 by Robert Cummings