CD Review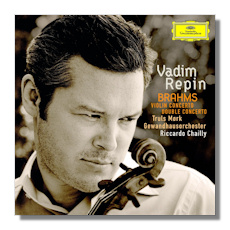 Violin Concerto in D Major, Op. 77
Double Concerto in A minor, Op. 102 *
Vadim Repin, violin
* Truls Mørk, cello
Gewandhaus Orchestra/Riccardo Chailly
Deutsche Grammophon 4777470
In 2014, I covered Decca Classics 4785342, which starred Leonidas Kavakos in the Violin Concerto with this same conductor and orchestra. Chailly is a masterful accompanist in both cases, but this 2008 disc is likely to be the more desirable package, if only because the "Double" Concerto has more friends than Bartók does on the latter disc. Deutsche Grammophon actually has several excellent versions of the work in recent history. Gil Shaham, Hillary Hahn, and now Repin all constitute prime modern recommendations.
I feel like the engineering is slightly more natural here than on Decca Classics 4785342, but otherwise, both discs feature "golden-age" playing. I know, we writers say that a lot, pining for Stern and Heifetz and Milstein. Repin's version stands among these greats, a gorgeous, full tone, deadly in accuracy, but also warm. There is imagination, a flexibility that elevates this recording above many others. At just under 23 minutes, the opening movement feels ideal in its ebb and flow. The Heifetz cadenza proves an inspired choice, and features the same laser-like attack that Heifetz himself possessed. Throughout, Riccardo Chailly provides a deeply-felt, warm backdrop. There's no rushing or clipping; that's what made his cycle of the composers' symphonies less than exemplary. The final moments are mesmerizing.
In the slow movement, the winds of the Gewandhaus steal the show, with oboist Henrik Walgren rightfully credited for his beautiful opening solo. Here, Chailly's penchant for moving Brahms swiftly pays off, the music floats where it often plods. And Repin's effortless, singing entrance is breathtaking, as are the orchestral choirs supporting him. There are recordings where the musical synergy is so undeniable that you can't wait to hear what happens next. This is one of those, and in that respect it might slightly supersede Kavakos' later Decca effort, if only just. Either way, this is very, very special.
The finale is excellent. The virtuosity here is remarkable, and that applies equally to soloist and orchestra. Instead of relying on speed, Chailly and Repin use dead-on rhythmic accuracy and the music's natural momentum to create a truly folksy feel. So while – and only for the first few seconds – you might feel everything is a touch measured in tempo, this is more than justified by the explosiveness and power that builds to a truly satisfying conclusion. Chailly's insistence that his balances remain clear goes a long way in ensuring that every aspect of this glorious score gets its due. The lower half of the orchestra sounds especially rustic. You'll love it.
The "Double" Concerto is much harder to pull off in every respect. It's much more difficult to balance, and moreover the writing is markedly less inspired. Not that you'd know it from Chailly's rock-solid introduction. Too often, it sounds like a mushy declaration. Not here! Even Claudio Abbado in his otherwise outstanding Brahms disc with Gil Shaham can't escape lurching somewhat at the start, and his cellist Jian Wang is inferior to Truls Mørk. Credit Chailly again, he makes this rather lumpy music incredibly exciting, and the Gewandhaus plays the music like first-rate Brahms. It's not, but the whole point is that these forces convince us otherwise. The result is a masterful performance. Repin again plays with total commitment, and the sound from the Deutsche Grammophon engineers is excellent. This is a Brahms disc for any collection.
Copyright © 2015, Brian Wigman