CD Review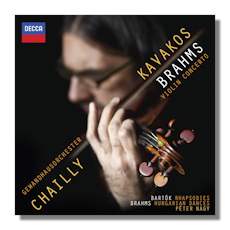 Concerto for Violin in D Major, Op. 77 *
Hungarian Dance #1
Hungarian Dance #2
Hungarian Dance #6
Hungarian Dance #11
Rhapsody for Violin & Piano #1, Sz. 87
Rhapsody for Violin & Piano #2, Sz. 89
Leonidas Kavakos, violin
Péter Nagy, piano
* Gewandhaus Orchestra/Riccardo Chailly
Decca Classics 4785342
This is a wonderful disc, and a project of real artistic creativity and worth. Rather than shove the Violin Concerto with another tired warhorse, Bartók was chosen to not only preserve the Hungarian theme, but to give us a real reason to invest an hour of our time. The dances make lovely encores, and the sound is warm and natural throughout. Kavakos is clearly a fantastic fiddler, one who has taken genuine effort to understand these pieces.
The Violin Concerto doesn't lack for excellent versions, but this is another. Kavakos plays tremendously, with no shortage of strength to compliment his beautiful tone. The first movement soars; it's fiery and intense, with a deliciously played Joachim cadenza at the finish. Chailly and his magnificent orchestra play Brahms as well as anybody these days, and the conductor has covered the major concertos with such success that you wouldn't want anybody else at the helm. It's a reading that really does hark back to the readings of olden days. The violin sounds huge, but even so, the orchestra never feels overpowered. It goes without saying that the adagio is one of the most flowing and unforced that I have ever heard in my life, with the Gewandhaus winds stealing the show. The solo violin entrance is simply spine-tingling, the kind of magic that only happens once in a great while. The orchestra plays with such a velvety sound, yet there is no limpness anywhere. This is incisive and intelligent accompaniment, attuned fully to dynamics and phrasing. And the finale dances, as it must to be effective. Kavakos really has the feel for this music, and his virtuosity is never in doubt. Super.
The Bartók pieces are very welcome, and while they might at first seem odd disc-mates, the fact is that the concept works quite well. Sure, going from the full sonorities of Brahms with orchestra to the more intimate chamber setting of the latter Hungarian takes a minute, but once past that, the music is glorious. Kavakos really digs into this folk-inspired music with gusto, and Péter Nagy is more than a mere shadow on the piano. Really, it's so reasonable to pair these two composers in theory that you wonder why it isn't more common in practice. The Rhapsody #2 has a danceable lift to it that shows the range of expression these two artists possess. The Hungarian Dances are more filler type works, but they too are played with spirited virtuosity and a real feel for the music that Brahms must have had in mind when he wrote them. Joachim's arrangements are just fine, and conclude the disc in a very handsome fashion.
I've no doubt that Riccardo Chailly's exceptional work for Decca on behalf of Brahms will lead to some kind of giant box set or download sometime down the line. Mr. Robert Cummings spoke very highly of his complete symphony set in February, and I plan to review it myself. The two piano concertos with Nelson Freire are landmarks for the conductor, pianist, and composer alike. Until that time, or in case the world explodes, pick this up now and enjoy it. A truly remarkable disc like this demands your attention.
Copyright © 2014, Brian Wigman