Blu-ray Review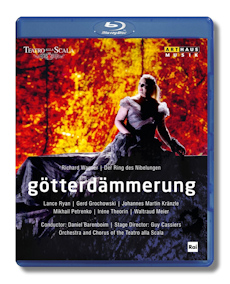 Die Götterdämmerung
Siegfried - Lance Ryan
Gunther - Gerd Grochowski
Alberich - Johannes Martin Kränzle
Hagen - Mikhail Petrenko
Brünnhilde - Iréne Theorin
Gutrune / Die dritte Norn - Anna Samuil
Waltraute / Die zweite Norn - Waltraud Meier
Die erste Norn - Margarita Nekrasova
Woglinde - Aga Mikolaj
Wellgunde - Maria Gortsevskaya
Flosshilde - Anna Lapkovskaja
Milan La Scala Chorus & Orchestra/Daniel Barenboim
Chorus master: Bruno Casoni
Guy Cassiers, stage director & set designer
Enrico Bagnoli, set and lighting designer
Tim van Steenbergen, costume designer
Sidi Larbi Cherkaoui, choreographer
Recorded live at the Teatro alla Scala, Milan, June 2013
Arthaus Musik Blu-ray 108093 292m LPCM Stereo DTS-HD Master Audio
Barenboim's new Ring cycle on Arthaus Musik has featured excellent renditions of the first three operas in the series – Das Rheingold, Die Walküre and Siegfried. All were splendidly conducted and produced, leaving little to be desired, musically or dramatically. Here with Götterdämmerung we of course have the final installment in the Ring opera cycle, and it is probably the most difficult of the four works to effectively bring off. I have generally favored Barenboim's new Ring over his older one from Bayreuth, which was recorded in 1991-92. That effort was also very excellent and I should mention for reference purposes that I reviewed it here at Classical Net in both its DVD (Warner/Unitel DVD D4755) and Blu-ray (Unitel Blu-ray BD4755) incarnations, and have reviewed the three operas in Barenboim's newer cycle here as well: Das Rheingold (Arthaus Musik Blu-ray 108090), Die Walküre (Arthaus Musik Blu-ray 108091), and Siegfried (Arthaus Musik Blu-ray 108092). I've also reviewed numerous other performances of the Ring operas here, but I must come back to the opinion I offered in my Siegfried review about Barenboim: to me he is the finest conductor of the Ring operas. I hasten to concede that Solti, Karajan and others will be the first choice of many listeners and critics. But in the video realm is there anyone else who rises to Barenboim's high level?
In Götterdämmerung once again Barenboim leads the performance with a fine sense for Wagner's drama: tempos are generally moderate but never lack for spirit or the proper emotional thrust; the orchestra plays with commitment and reasonable accuracy; and Barenboim draws excellent singing from his cast, with never a really wayward vocal passage anywhere. That said, things aren't perfect here: Iréne Theorin as Brünnhilde is strongly compelling, especially dramatically, but has a voice that has darkened somewhat and her sustained notes, particularly in the lower range, at times can display a bit of wobble. Still, it's hard to mention even such a minor flaw, as ultimately she is fully convincing and pleasing to listen to. (The audience cheered wildly for her during the final curtain call.) Waltraud Meier as Waltraute displays a tone that has darkened a bit too, but she is her usual spectacular self in this production. Mikhail Petrenko as Hagen is quite excellent and Lance Ryan is also convincing as Siegfried, if at times a little inconsistent. Anna Samuil is splendid as Gutrune and the rest of the cast is more than adequate. The chorus sings marvelously. I should mention that both Meier and Samuil also sing, respectively, the Second and Third Norns, and are excellent in those roles as well.
Stage Director Guy Cassiers has drawn almost as much attention in this Ring series as Barenboim, but it has involved a measure of controversy. As I noted in my review of Das Rheingold, Cassiers has attempted to create a duality of time, placing the story both in an earlier time and in ours. The costuming, with lots of leather outfits for the male (and sometimes female) characters and strange looking gowns for the women, makes dating the action to a specific period problematic, thus arguably achieving the duality aim. The scenery and lighting often combine to display a sort of eerie or psychedelic look, a feature that again works against a specific time setting. To experience the "psychedelic" aspect here try the Funeral March sequence at the end of the Third Act's Second Scene (track 43), where red colors initially flood the stage, and also try the opera's powerful closing scene. Overall, the production never seems over-the-top in any significant way or distracts from the stage action. Indeed, and it must be said that Cassiers has a fine sense for creating colorful atmosphere that contributes imaginatively to the action and emotions on stage.
Ballet dancers are used in some scenes and the dancing here by Ballet Company Eastman is tasteful and not intrusive on the stage action. There are some minor imperfections in technical features: the subtitles aren't always accurate, as "altar" is misspelled as "alter", and certain lines are occasionally awkwardly translated. The camera work is excellent and the picture quality very sharp and clear. The sound reproduction is vivid and powerful. The running time of 4:51:29 may seem overlong for even this opera, but it is slightly misleading: there are some lengthy curtain calls between acts and at the opera's end which add perhaps fifteen or twenty minutes to the total timing. Overall, this final entry in Barenboim's new Ring series is a major triumph in almost every respect and, for me, will be the version of Götterdämmerung that will occupy top place, at least in the video realm.
Copyright © 2014, Robert Cummings