Blu-ray Review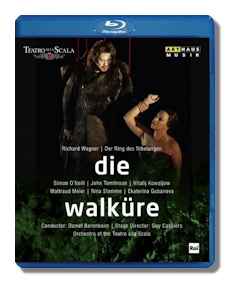 Die Walküre
Simon O'Neill - Siegmund
John Tomlinson - Hunding
Vitalij Kowaljow - Wotan
Waltraud Meier - Sieglinde
Nina Stemme - Brünnhilde
Ekaterina Gubanova - Fricka
Danielle Halbwachs - Gerhilde
Carola Hoehn - Ortlinde
Ivonne Fuchs - Waltraute
Anaik Morel - Schwertleite
Susan Foster - Helmwige
Leann Sandel-Pantaleo - Siegrune
Nicole Piccolomini - Grimgerde
Simone Schroeder - Rossweise
Orchestra of the Teatro alla Scala/Daniel Barenboim
Guy Cassiers - Stage Director
Enrico Bagnoli - Set & Lighting Designer
Tim van Steenbergen - Costume Designer
Csilla Lakatos - Choreographer
Video Designs - Arjen Klerkx, Kurt D'Haeseleer
Recorded Live at the Teatro all Scala Milan - December 7, 2010
Arthaus Musik Blu-ray 108091 238m LPCM Stereo DTS-HD Master Audio
This is the second leg of Barenboim's new Ring cycle on Arthaus Musik. I reviewed the first, Das Rheingold (Arthaus Musik Blu-ray 108090) at the end of 2013, finding it an excellent performance and production all around. That same excellence is in evidence in this new Die Walküre.
One of the reasons this is such a successful effort is because of the work of the female leads in the cast. Waltraud Meier as Sieglinde, Nina Stemme as Brünnhilde, and Ekaterina Gubanova as Fricka, are all splendid. Perhaps it is Meier, though, who is most compelling among them. Her every gesture and look, as well as her beautiful voice, keep you spellbound. For just one example, listen to her passionate singing at the end of the Scene III, Act II (Hinweg! Hinweg! Flieh die Entweihtel). Simon O'Neill as Siegmund is also convincing: he has a pleasant and attractive voice, though he may fall a bit short of drawing the highest accolades. Vitalij Kowaljow, who was a last-minute replacement for Rene Pape, delivers a grim and convincing Wotan, perhaps not quite at the level that Pape would have achieved. Still, Kowaljow shows he has the vocal resources and dramatic skills to be a great Wagnerian singer. One curious point about Wotan in this production is his makeup – black paint on one side of his face. In a way it fits the character, but it does look a little weird. The black streaks on Siegmund's face are also a bit distracting. To conclude assessment of the singers, let me just say that the rest of the cast is quite fine, especially the Valkyries.
Another reason for the success of this production is Daniel Bareboim, a great Wagnerian conductor if there ever was one. His tempo choices, phrasing, and sense of drama are consistently tasteful and convincing. He knows how to accompany singers when they have the spotlight (try the tense exchanges between Siegmund and Brünnhilde throughout Scene IV, Act II) and how to whip the orchestra into a storm crackling with kinetic drive – just try the Ride of the Valkyries from Act III. Needless to say, the La Scala orchestra performs splendidly under his baton throughout the opera.
The production, by Guy Cassiers, is imaginative and quite atmospheric in its mostly dark backgrounds, eerie shadows and weird video effects. The lighting, costumes, and other production aspects are very effective as well. This Blu-ray's picture quality and sound reproduction are superb.
Overall, I think this new effort, taken from just a single performance (December 7, 2010), is to be preferred to Barenboim's earlier and quite excellent Die Walküre on Warner Classics, a live 1992 effort from Bayreuth, which I also reviewed at Classical Net (Warner Classics D4755). I've reviewed several others here as well, including the 2011 Christian Thielemann Opus Arte Blu-ray (OABD7081D), and the 2006 Hartmut Haenchen-led Opus Arte DVD (OA0947). Both were very good but, once again, I believe this new effort by Barenboim trumps them in most respects. For Wagner mavens this new Die Walküre is a must.
Copyright © 2014, Robert Cummings