Blu-ray Review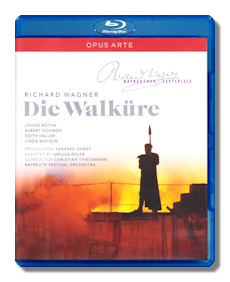 Die Walküre
Siegmund: Johan Botha
Hunding: Kwangchul Youn
Wotan: Albert Dohmen
Sieglinde: Edith Haller
Brünnhilde: Linda Watson
Fricka: Mihoko Fujimura
Gerhilde: Sonja Mühleck
Ortlinde: Anna Gabler
Waltraute: Martina Dike
Schwertleite: Simone Schröder
Helmwige: Miriam Gordon-Stewart
Siegrune: Wilke te Brummelstroete
Grimgerde: Annette Küttenbaum
Roßweiße: Alexandra Petersamer
Bayreuth Festival Chorus
Bayreuth Festival Orchestra/Christian Thielemann
Recorded at the Bayreuth Festival – August 21, 2010
Bonus Feature: The Making of Die Walküre
Opus Arte Blu-ray OABD7081D Widescreen Anamorphic 1080i/60 LPCM Stereo DTS-HD Master Audio
Whenever a video recording of an opera shows the curtain calls at the end, I always watch them intently because they are a sort of review before the fact, especially if it's a fairly sophisticated audience reacting, like those at the Bayreuth Festival. Indeed – you can generally discern not only which performers they liked, but the degree to which they liked the production. In this Opus Arte Blu-ray effort, you get to see curtain calls after each act, as well as eleven minutes of curtain calls at the end of the opera! The clapping and cheering goes on and on. The audience certainly approved of the proceedings.
Johan Botha, who portrayed Siegmund, got the biggest ovations by far – and he deserved them. Who was second? The conductor is Christian Thielemann, who is more and more emerging not only as a major Wagner interpreter, but as one of the most compelling conductors of the Beethoven symphonies in the world. His recent cycle on Unitel/CMajor was a great triumph, one of the most distinguished Beethoven cycles on record. In Die Walküre Thielemann is somewhat suave but fairly detailed in his approach, getting excellent playing from his orchestra and fine singing from the cast throughout. I should mention that both Edith Haller and Linda Watson have attractive voices and considerable vocal power, and along with Botha were a cut or so above most Wagner singers.
Yet, the production wasn't a flawless affair: the sets were a bit dingy atmospherically, from Hunding's hut to the Valkyries" rock. The costuming for most of the main characters was reasonably good, but the red outfits for the Valkyries, colorful though they were, had a sort of antiquated space-age look, the kind of thing you"d see in an old techni-color sci-fi B-movie. But these are relatively minor quibbles that don't seriously detract from the performance. What I found odd was the appearance at the outset of a modern-day family who wander onto the stage as if to intrude on a page of history. A twelve- or thirteen-year-old boy from the family runs over to Sieglinde, pulls down her hood and then quickly flees, his unveiling serving to kick off the story. The father of the family can be seen later on reading a newspaper far in the background. What's behind these anachronistic intrusions?
Ah! I think I get it: it suggests that modern-day man is neglectful of great art! That's it! On the other hand, maybe the presence of the unmindful father and his family suggest the timelessness of this classic: it's meaningful art even amid our mundane daily affairs. Whatever. But then, couldn't you make such commentary in almost any good opera? Or couldn't you have someone, uh, reading a newspaper in the background on stage during an instrumental concert? Or during performance of a Shakespeare play? Why during a Wagner opera?
Fortunately, this little dubious touch is rarely seen and rarely intrusive, and thus the performance can stand as a viable account of this great Wagner opera. The sound and camera work were both excellent. Other Die Walküre video efforts of interest include a 1991 Met production, led by James Levine on DG, featuring Gary Lakes as Siegmund and Jessye Norman as Sieglinde; and a Hartmut Haenchen-led Netherlands Opera production from 1999, featuring John Keyes as Siegmund and Nadine Secunde as Sieglinde. The latter recording may be a bit slick in its special effects (real fire on stage amid generally barren sets), but the former is a pretty excellent production, both in performances and the imaginative sets. Unfortunately, the video quality is, by today's standards, second-rate. This Opus Arte Blu-ray production, available on DVD as well, is visually quite sumptuous and also competitive in most other respects. Recommended.
Copyright © 2011, Robert Cummings