Blu-ray Review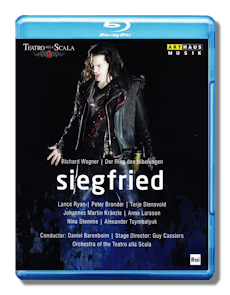 Siegfried
Siegfried - Lance Ryan
Mime - Peter Bronder
Der Wanderer - Terje Stensvold
Alberich - Johannes Martin Kränzle
Fafner - Alexander Tsymbalyuk
Erda - Anna Larsson
Brünnhilde - Nina Stemme
Stimme des Waldvogels - Rinnat Moriah
Waldvogel (mimed) - Viviana Guadalupi
Milan La Scala Orchestra/Daniel Barenboim
Guy Cassiers - Stage Director and Set Designer
Enrico Bagnoli - Set & Lighting Designer
Tim van Steenbergen- Costume Designer
Sidi Larbi Cherkaoui - Choreographer
Recorded live at the Teatro alla Scala Milan, October 2012
Arthaus Musik Blu-ray 108092 253m LPCM Stereo DTS-HD Master Audio
What is visually striking about this production of Siegfried is the darkish and often psychedelic scenery on stage which imparts an air of mystery to heighten the sense of mythical atmosphere. Projected in the background in the First Act are glistening or pulsating speckles of light, and in the foreground is a scaffold-like structure, which gradually takes shape as the act progresses. Eventually it divulges squares with a checker pattern of bars to form a grill-like appearance. Siegfried and Mime climb up and down (or hang from) the several levels of the scaffold, from whose squares emanate various colors of light. (The scene is supposed to be taking place in a cave in the forest.) In the Second Act glowing columns of linked metal hang down against a dark background to impart a mysterious but also threatening atmosphere. The Third Act opens with lines of red light streaming downward against various silvery or fiery backgrounds.
The costuming is bizarre but imaginative in its mixture of imitation furs, glossy leather jackets and pants, and regal gowns. The makeup is striking too, though a bit over-the-top: among other oddities, Mime and Alberich have odd looking scars on their faces and the Wanderer is black on one side of his face. Well, all of these seemingly peculiar touches actually contribute to an air of mystery and myth, but also to a sort of timelessness or duality of time. In my review of Das Rheingold, the first entry in this new Barenboim Ring cycle (Arthaus Musik Blu-ray 108090), I noted Stage Director Guy Cassiers' intention to create a sense the opera is taking place in our time as well as in Wagner's. In my notice on Barenboim's Die Walküre earlier this year (Arthaus Musik Blu-ray 108091) I praised Cassiers' imaginative work in that effort as well.
That said, important as I think Cassiers' contributions are here and throughout this series, it is Barenboim – and the singers of course – who make each production really special. This new Ring cycle thus far marginally tops Barenboim's excellent Bayreuth cycle (Unitel Classica Blu-ray BD4755), which was my previous favorite, not only on video but when compared with performances in standard audio format as well. To me, Barenboim is simply the most convincing conductor in Wagner's Ring operas. Granted, Solti and Karajan were outstanding Wagnerians too, but I would place Barenboim at the top. He has a seemingly unerring sense for pointing up essential detail, for choosing the right tempo, and for capturing proper balances between orchestra and singers. He also apparently inspires his singers to turn in their finest work.
Lance Ryan makes an excellent Siegfried. This Canadian heldentenor has a powerful, attractive voice and sings with energy and total commitment throughout his demanding role. English-born Peter Bronder as Mime is splendid too: he brilliantly projects the cowardice and sleaziness of his character and with superior vocal skills. As you would expect, Nina Stemme as Brünnhilde is stunning. From the moment she awakens in the final act she sings so arrestingly, so beautifully as to nearly steal the show from then on. Just try her Ewig war ich… (track 55), and you'll sit astonished as you listen to her supreme artistry. True, her voice has perhaps darkened a tad, but she is still arguably the finest dramatic soprano on the operatic stage today. The remaining cast members are also quite strong in their roles – there's not a weak or average performance by any of them. To round things out, the camera work, picture clarity and sound reproduction are first rate on this Arthaus Musik disc. Highly recommended.
Copyright © 2014, Robert Cummings