Related Links
Recommended Links

Site News
CD Review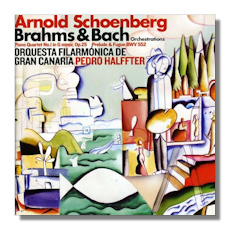 Orchestral Transcriptions
Orquesta Filarmónica de Gran Canaria/Pedro Halffter
Warner 2564-68607-4 62mins
Although Arnold Schoenberg is generally regarded as being the embodiment of atonality and modernism, he was in fact a wholehearted upholder of musical tradition, as well as an indefatigable experimenter who resented being labeled a "musical revolutionary". Schoenberg (1874-1951) lived during a period of intense artistic ferment and novel ideas, but he had no desire of denying the obvious, and given what he taught and wrote about his music, his works have to be viewed as innovations within the great arch of tradition. A new sentence maybe, but not an entirely new paragraph. With this in mind, we can understand why the composer had such a strong affiliation with the works of Brahms and other composers from the Baroque, Classical and Romantic eras. His many transcriptions of other composers' music vouch not only to this particular predilection, but also to his mastery as an arranger and orchestrator.
The orchestration of Brahms's Piano Quartet #1 dates from 1937 and was commissioned by the famed Otto Klemperer. In the original piece the pianist very often overpowers much of the melodic writing assigned to the strings, but in his arrangement, Schoenberg manages to strike a wonderful balance bringing out in the clear Brahms's striking fecundity of writing memorable melodies that stick in one's mind.
By employing large orchestral forces the composer's recreation of Bach's BWV 552 highlights new elements such as articulation, phrasing differentiation of octave registers, dynamic contrasts and multiple melodic accents of passing notes. This piece was orchestrated in 1928 and was premièred in November of that same year in Berlin with Furtwängler directing. Halffter and his Spanish forces perform with passionate commitment, and their attention to detail brings out all the transparent textures of Schoenberg's conception. A highly entertaining panorama of one of the composer's lesser known facets. Sound and annotations are first-rate.
Copyright © 2010, Gerald Fenech