Related Links
Recommended Links

Site News
CD Review
Mackerras Conducts Janáček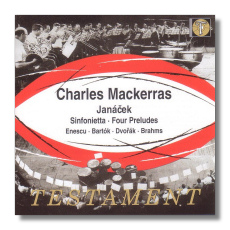 Sinfonietta
Four Preludes:
'The Makropoulos Affair'
'Katya Kabanova'
'From the House of the Dead'
'Jealousy'
George Enescu: Romanian Rhapsody #1
Béla Bartók: Romanian Folk Dances
Antonín Dvořák: Slavonic Dance in E minor, Op. 46 #2
Johannes Brahms: Hungarian Dances #5 & 6
Pro Arte Orchestra/Charles Mackerras
Philharmonia Orchestra/Charles Mackerras
Testament SBT1325 76m DDD
Mackerras' legendary Sinfonietta recording for Pye was briefly available on an EMI Phoenixa CD but is now rightly restored to its former glory on Testament. I recall being bowled over by the lines of a Gramophone review describing the opening bars sounding as 'naked as nature intended them' and the immense energy that permeates the music.
This remastering reveals the astonishing level of power that the Pro Arte Orchestra generates under the conductor's inspired direction. I would stick my neck out and say that the recording is at par with the legendary Ančerl or Talich but it is most definitely not surpassed in any way. There is still that unique sense of discovery and even I was totally nonplussed at the end with that unforgettable cacophony of sound.
The other items on disc are no less intriguing. Mackerras' shows his affinity for the great Janáček operas in his conducting of four obscure Preludes. Enescu's 'Romanian Rhapsody' fairly jumps out of the speakers whilst the Dvořák Slavonic Dance and the Brahms Hungarian Dances are also informed with an irresistible zest throughout. Altogether, this is a fine memorial to the youthful Charles Mackerras, blazing the trail for Czech music at this early stage of his career.
Copyright © 2004, Gerald Fenech