CD Review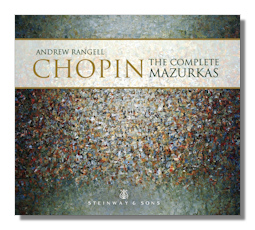 The Complete Mazurkas
Mazurkas, Op. 6
#1 in F Sharp minor
#2 in C Sharp minor
#3 in E Major
#4 in E Flat minor
Mazurkas, Op. 7
#1 in B Flat Major
#2 in A minor
#3 in F minor
#4 in A Flat Major
#5 in C Major
Mazurkas, Op. 17
#1 in B Flat Major
#2 in E minor
#3 in A Flat Major
#4 in A minor
Mazurkas, Op. 24
#1 in G minor
#2 in C Major
#3 in A Flat Major
#4 in B Flat minor
Mazurkas, Op. 30
#1 in C minor
#2 in B minor
#3 in D Flat Major
#4 in C Sharp minor
Mazurkas, Op. 33
#1 in G Sharp minor
#2 in D Major
#3 in C Major
#4 in B minor
Mazurkas, Op. 41
#1 in E minor
#2 in B Major
#3 in A Flat Major
#4 in C Sharp minor
Mazurka in F minor, Op. 68 #4
Mazurkas, Op. 50
#1 in G Major
#2 in A Flat Major
#3 in C Sharp minor
Mazurkas, Op. 56
#1 in B Major
#2 in C Major
#3 in C minor
Mazurkas, Op. 59
#1 in A minor
#2 in A Flat Major
#3 in F Sharp minor
Mazurkas, Op. 63
#1, B Major
#2 in F minor
#3 in C Sharp minor
Mazurka in A minor, B 134 "Notre temps"
Mazurka in A Major "à Émile Gaillard", B 140
Mazurka in D Major, B 71
Mazurka in B Flat Major, B 73
Mazurka in G Major, B 39
Mazurkas Op. 67
#1 in G Major
#2 in G minor
#3 in C Major
#4 in A minor
Mazurka in B Flat Major, B 16 #2
Mazurka in A Flat Major, B 85
Mazurka in C Major, B 82
Mazurkas Op. 68
#1 in C Major
#2 in A minor
#3 in F Major
#4 in F minor (revised version)
Andrew Rangell, piano
Steinway & Sons 30071 2CDs 73:43+71:49
This set of the Chopin Mazurkas on the Steinway & Sons label is a reissue that was recorded in April, 2000; July, 2001; and October, 2002. It was initially released in June, 2003 on the Dorian label. The artist here is American pianist Andrew Rangell (b. 1948), who has earned a reputation for his fine interpretations of music by J.S. Bach and Beethoven. One thing you can say about his Chopin is that it will likely make you sit up and take notice, maybe even make you hear the composer in a different way. Why?
Rangell's accounts of these marvelous Chopin works are rather individual and full of subtle touches, but his approach will likely, if it hasn't already from its first appearance on disc, generate some controversy. He is less Romantic in his interpretations than many pianists, sometimes a bit grudging in his use of the pedal, and often he employs generous amounts of rubato, perhaps to the point where some listeners may find the tempo a bit fractured and lacking in flow – try his account of the B-flat Major, Op. 7, #1, a performance I nevertheless found effective. Yet, his manner in these works is not based on momentary whim or on a natural eccentricity, but rather on the emotional and intellectual character of the piece, as his tempo adjustments, dynamics and phrasing in general seem to fit well the mood and spirit of each mazurka. Indeed, and rarely does he come across as wayward or unconvincing. Arguably, he is very subtle and thoughtful in his accounts of just about every mazurka on the two discs, even if he goes out on a few limbs.
Try his emotionally charged performance of the A minor Mazurka, Op. 17, #4. Notice how he deftly establishes a sort of hobbled gait to accompany the main theme as it struggles seemingly through tears to express its sadness, but then he adds contrast at the end of the theme's exposition with a sort of nervous tic whose accented character suggests an emotional lift, one which of course never materializes. The middle section initially seems an oasis of hope from the darkness, but Rangell deftly points up the hectic character in those hammered notes in the right hand to expose the music's deceptive character. He finds just the right mixture of elegance and frustration in the great B-flat minor Mazurka, Op. 24, #4, and he nicely captures the exuberance of the D-flat Major Mazurka, Op. 30, #3.
Rangell's deft account of the C-sharp minor Mazurka, Op. 50, #3, is elegant and tortured by turns, its flow hesitant and its bursts of ebullience unsettled, if not schizophrenic. The B Major Mazurka, Op. 56, #1, divulges the same hesitant quality but is appropriately brighter and happier. The the C-sharp minor, Op. 63, #3 has an especially effective anguished sense because of Rangell's subtle use of rubato, a feature he also employs nicely in the ensuing piece on the second disc, the "Notre temps" Mazurka.
As suggested above, nearly all of the mazurkas here are effective in their own, individual way and the whole set is certainly worth exploring. Rangell offers insightful album notes, explaining much about the mazurkas in considerable detail. The sound reproduction is clear and well balanced, and the instrument itself is quite fine sounding, not a surprise considering the label name. I reviewed Janina Fialkowska's complete set of Mazurkas here in 2014 (Atma Classique ACD22682) and found it excellent. Still, I can give this quite different Mazurka collection by Rangell a strong recommendation.
Copyright © 2017, Robert Cummings