CD Review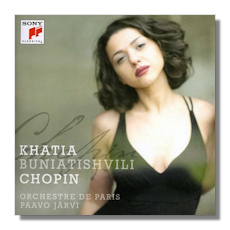 Waltz in C minor, Op. 64 #2 (B 164)
Sonata for Piano #2 in B Flat minor, Op. 35 (B 128)
Ballade #4 in F minor, Op. 52 (B 146)
Concerto for Piano #2 in F minor, Op. 21 (B 43) *
Mazurka in A minor, Op. 17 #4
Bonus Video: Warsaw - Paris (A short film conceived by and featuring Khatia Buniatishvili)
Khatia Buniatishvili, piano
* Orchestre de Paris/Paavo Järvi
Sony Classical 88691-97129-2 71m
Khatia Buniatishvili is one of the finest pianists of our time, certainly in the Romantic repertoire. She can play brilliantly, when appropriate, but considered expression is her dominant concern. From soft, gentle and relaxed to powerful playing, her range, both of tempos and dynamics is enormous, but never forced or mannered. Her playing has power, grace and restraint. Her articulation is clean, even in the trills. Clarity is never sacrificed, even in the presto finale of the sonata, which flies by.
Quiet, lyrical gentleness particularly characterize the opening Waltz and closing Mazurka in this collection, as well as the relaxed passage in the sonata's funeral march, which seamlessly follows and precedes the interrupted march pace. As for that movement, I have never heard it played more effectively. The Sonata #2, which contains it, was part of her program in her November 19, 2012 performance in Salle Pleyel; the pace of the funeral march was exactly right and nearly reduced me to tears. Her measured tread communicated the inexorable pace of final loss and led one to abandon any concern with merely critical assessment.
Another of these pieces was also played at that concert: the Ballade #4, which has been called one of Chopin's greatest works. A comparison with Stephen Hough's recorded performance of this shows Buniatishvili's more than competitive. For one thing, her gradually increased dynamics throughout the piece amounts to a long and effective crescendo.
The performance of the Piano Concerto #2, recorded live in Salle Pleyel, Paris, September 13-15, 2011, left nothing to be desired on the part either of the soloist or the orchestra.
By the way, the Salle Pleyel recital I mentioned received an emphatic standing ovation, with two encores, the first a gentle Liebestraum and the second an unbelievably brilliant piece I cannot identify. I am told that Paris audiences are by no means always so enthusiastic.
Highly recommended recording.
Copyright © 2012, R. James Tobin