CD Review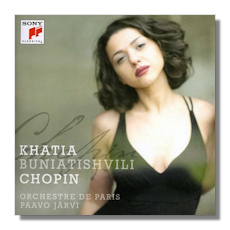 Waltz in C minor, Op. 64 #2 (B 164)
Sonata for Piano #2 in B Flat minor, Op. 35 (B 128)
Ballade #4 in F minor, Op. 52 (B 146)
Concerto for Piano #2 in F minor, Op. 21 (B 43) *
Mazurka in A minor, Op. 17 #4
Bonus Video: Warsaw - Paris (A short film conceived by and featuring Khatia Buniatishvili)
Khatia Buniatishvili, piano
* Orchestre de Paris/Paavo Järvi
Sony Classical 88691-97129-2 71m
Khatia Buniatishvili's second solo CD is dedicated to Frédéric Chopin and continues in the same vein as her acclaimed solo debut which focused on Franz Liszt. The 25-year old Georgian pianist proposes a highly personal album again, with a handpicked selection of pieces that form a compelling ensemble of 70 minutes of Chopin music, linked by inherent themes like youth and nostalgia, love and death. As in her Liszt CD Buniatishvili's pianism blends prodigious technique with a vivid imagination and instinctive musicality. By all means, it is a CD to savior slowly and gradually, because like some select wine it can hit rather heavily when taken in too quickly. When tasted with moderation however the rewards turn out to be so much bigger. Buniatishvili is a profound and intelligent artist, and evidently everything has been well considered, not only the choice of music but also the photos and the booklet essay. This may not be your everyday Chopin recital, yet it clearly comes straight from the heart with irresistible eloquence as well as tremendous skill.
The CD includes a black and white clip of some 6 minutes, entitled "Warsaw-Paris", conceived by and featuring Khatia Buniatishvili. With its retro-style imagery and romantic, sometimes mysterious mood it superbly adds to the overall concept of the album. We see snippets of a woman sitting alone on a bench, leaving by train, throwing pages of a score into a pool, leafless trees, and we hear the ethereal sound of the Mazurka in A minor. Shot by photographer Esther Haase (who also took care of the stylish booklet photography of Buniatishvili), the prevailing themes are melancholy, lost love, loneliness and life unaccomplished.
The program of the CD itself is sensibly composed, offering the two pièces de résistance - the monumental Second Sonata and the Second Concerto - surrounded by shorter works. The opening Waltz in C Sharp minor lifts a tip of the veil. Buniatishvili's playing boasts plenty of volatility in dynamics and tempi, yet the moments of ardor never quite conceal the underlying vulnerability. "He had within him the folly of youth, a sense of rebellion, tenderness and passion, and yet he never fought for victory", as Buniatishvili writes in one of the most stimulating liner notes accompanying a classical CD I have read in a long time.
Similarly, the palpitating intensity she reveals in the first two movements of the Second Sonata pushes us swiftly forward with an almost careless youthful exuberance, yet only to lead towards the infamous "Marche funèbre" and that harrowing "Finale". Buniatishvili undoubtedly outsizes her argument in places (and even if she respects the score's dynamic markings, this is bound to annoy some), but her grip upon the work is undeniable, especially when we arrive at the emotional core of this sonata. The funeral march progresses with nobility and restraint in her hands, devoid of empty pathos or pomp, but it is the central trio that she turns into a poignant reflection. The softness of her touch and the subtly nuanced dynamics (the last part is almost a sigh), the crystal clear left hand arpeggios, are totally gripping here, before taking us (as she describes it) "like a breath cut short before its time" in ultra-fast tempo towards the abyss.
The changing moods of the F minor Ballade are characterized with plenty of fantasy. Buniatishvili enters on tiptoes, softly evoking its nostalgic, nocturne-like mood before accelerating with natural ease towards the barcarolle-type second subject. The dynamic control is impressively handled, while the clarity of her articulation guarantees a well-etched sonority in even the most tempestuous passages. As the following Second Piano Concerto the Ballade leaves place for optimism, a different side of Chopin, even if melancholy is never far away. The Concerto is a live performance (although it's virtually impossible to tell from the recording) with the Orchestre de Paris conducted by its current music director Paavo Järvi. The balance between soloist and orchestra is immediately apparent and Järvi belies the often heard reproach that a Chopin piano concerto is about nothing else but the piano. He ensures a background and dialogue rich in color and bold in drama that intensifies Buniatishvili's spirited playing in the outer movements, but even more in her affecting rendition of the "Larghetto", perhaps more nostalgic than belcanto.
The Mazurka in A minor, Op. 17/4 is an ideally chosen closer for this amazing disc. Buniatishvili captures its dreamlike melancholy and illusory improvisation with eerie grace, while the mysterious "perdendosi" of the final bars acquires a poignant haunting quality. "All that is left to us is to dream thanks to all this, otherwise this lost soul will have sacrificed itself in vain", as Buniatishvili concludes in her essay. Indeed, this is the genius of Chopin in barely 5 minutes.
And after all that's what makes this such an outstanding disc. In spite of the hyper-subjective approach, this is about Chopin first and foremost. Khatia Buniatishvili proposes her personal vision about Chopin, however in doing so she gives us the chance to ponder and lose ourselves in his music which was primarily composed for himself, yet by revealing his inner self in his creations Chopin puts up a mirror for us. The sacrifice hasn't been in vain, but it takes an artist like Khatia Buniatishvili to remind us of it, even if she, too, shows a part of her inner self.
That Buniatishvili's piano is moreover beautifully recorded by the Sony engineers can only enhance our pleasure. This is a magnificent achievement and warmly recommended.
Copyright © 2012, Marc Haegeman