CD Review
Piano Works
12 Études, Op. 10
12 Études, Op. 25
Murray Perahia, piano
Sony Classical SK61885 DDD 55:54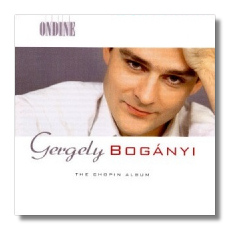 12 Études, Op. 25
Ballade #4 in F minor, Op. 52
Nocturne #5 "Les zéphyrs" in F Sharp Major, Op. 15 #2
Nocturne #2 "Murmures de la Seine" in E Flat Major, Op. 9 #2
Waltz #3 in A minor, Op. 34 #2
Waltz #4 "Cat Waltz" in F Major, Op. 34 #3
Gergely Bogányi, piano
Ondine ODE1008-2 DDD 56:37
At least on disc, Perahia has moved through the piano repertoire methodically, starting with Schumann and Mozart. Lately, Bach has been on the menu; might a thorough overview of Chopin be next? Perahia has paid less attention to the Polish master than one might have expected. It is all the more surprising, then, to find him tackling works that intimidated even Artur Rubinstein, whose Chopin-playing was in a class of its own for many decades.
So how has Perahia managed? Pretty well, actually. While some of the pianism on this CD isn't exactly effortless – and this may be partly an interpretive decision, not a technical limitation – one frequently is moved to exclaim, "That's Perahia? Wow." Not that Perahia would be expected to bumble his way through anything. It's just that he hasn't built his career on finger-busters. Class and sensitivity have been Perahia's strengths. While they play a role in Chopin's Études, these virtues often take second and third place to virtuoso display.
Other pianists have floated the "Butterfly" Étude more gracefully, and Perahia doesn't avoid hints of finger calisthenics or even pounding in the more extraverted pieces. Sometimes Chopin's melodies don't soar over the busy thickets of notes as they should. On the other hand, the "Revolutionary" Étude is tremendously exciting. As one might predict, less demonstrative études – Op. 10, #3, for example – suit him well. And so, while Perahia is never less than interesting, his Chopin Études can't be recommended without at least some reservations while recordings by Juana Zayas and Grigory Sokolov (for example) are available. (Several pianists as celebrated as Perahia have recorded inferior sets of Études, I also hasten to say.) Also, I'd predict Perahia has a memorable set of Nocturnes in him.
These recordings were made in London in the early summer of 2001, and the engineering is superb. Sony tells us the names of the piano technicians, but not the name of the piano!
Gergely Bogányi is a young (b. 1974) Hungarian pianist who has studied in Budapest, Bloomington (with György Sebők), and Helsinki; the latter explains his relationship with the Finnish label Ondine, I suppose. Although this "Chopin Album" is not his debut recording, it is the first one to be extensively promoted in the United States, and so this is my first encounter with Mr. Bogányi.
This program gave me a great deal of pleasure. Bogányi plays with assurance and with excellent Romantic spirit – a by-product of youthful impetuousness. He's at his best when the music is moving forward or telling a story, less convincing when simply creating a static mood. As a result, the Fourth Ballade is excellent, while the Nocturnes and Waltzes, while pretty, are less distinctive. He's not afraid, however, to be sweet in these latter works, a trait which differentiates him from pianists of the generation before his.
It is an irresistible temptation to compare his Op. 25 Études with Perahia's. Telling the two pianists apart would not be at all difficult for a blindfolded listener. Surprisingly, it is Bogányi who seems less interested in impressing us with technique, flashes of temperament aside – for example, at the end of the Tenth Étude. He uses rubato more liberally, and also the sustaining pedal; Perahia doesn't sacrifice clarity for color. The more subjective of the two pianists is obviously Bogányi, who adjusts tempo, dynamics, phrasing, and tone more often than the printed page requires. There are plenty who will argue that Chopin expected nothing less of a talented pianist, and that Perahia's objective interpretations don't reveal everything the music has to offer. No one will call Perahia precious, however, an adjective that more conservative listeners might apply to Bogányi.
The Hungarian pianist was recorded in January 2002 in Finland. Ondine's engineering strikes me as being relatively non-interventionist, which is in contrast to Sony's x-ray clarity.
Copyright © 2002, Raymond Tuttle