CD Review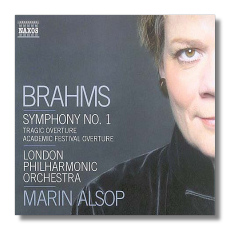 Symphony #1
Tragic Overture
Academic Festival Overture
London Philharmonic Orchestra/Marin Alsop
Naxos 8.557428 DDD 72:42
At any point in time, it must be true that at least one orchestra is in the middle of recording a new Brahms symphony cycle. However, because these symphonies are multifaceted masterpieces, the proliferation of versions by Conductor X, Y, or Z often are welcome, as each one sheds new light on the music.
Marin Alsop's star continues to be in the ascendant, not least through a series of recordings for Naxos (Barber, Tchaikovsky, Glass, Bernstein, etc.) of which this is the most recent. She was a student of Leonard Bernstein, and studied at Yale and Juilliard. One of the most successful and consistent American conductors making recordings today, everything she conducts, no matter how familiar it is, sounds fresh and exciting, and without superimposing her ego on it.
Few of us really need a new recording of the Brahms First, but it is a pleasure to hear this familiar symphony given the deluxe treatment. Alsop is no revisionist, and there is little about her interpretation that is surprising, but it is taut and gripping from first note to last, and objective too. Anyone unfamiliar with this work could purchase Alsop's CD and feel comfortable that the music was not being misrepresented. Having said that, I think Alsop gives the final movement's "Beethoven" theme uncommon gravitas, and the music that leads up to it (including a serenely confident alphorn solo played by Michael Thornton) displays Alsop's ability to think in terms of paragraphs as well as sentences. Similarly, the first movement is very well organized, and Alsop observes the exposition repeat. The one word that best sums up this interpretation is "nobility." In this respect, Alsop's view of the symphony may be compared to Klemperer's, although she is less craggy than the German giant.
Similarly, the overtures go well, yet the conductor misses something of the earthy humor of the Academic Festival. She seems more comfortable with Brahms' more Apollonian utterances.
The recording was made in Watford Town Hall in January 2004; Naxos' documentation doesn't say if it was associated with a live performance. The London Philharmonic plays beautifully, and producer/engineer Tim Handley gives the orchestra a glowing sound.
Don't throw away your favorite version of this work, but by all means hear Alsop if you love your Brahms… or buy this CD if you have a friend or a family member who has yet to make his acquaintance.
Copyright © 2005, Raymond Tuttle