Related Links
Recommended Links

Site News
CD Review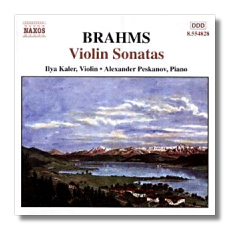 Violin Sonatas
Violin Sonata #1 Op. 78
Violin Sonata #2 Op. 100
Violin Sonata #3 Op. 108
Ilya Kaker, violin
Alexander Peskanov, piano
Naxos 8.554828
This is, to put it simply and clearly, some of the most beautiful music ever written. The violin melody at the very opening of the first sonata is one of the most memorable pieces of music I have ever heard. I have lost count of the number of times I have spent an evening relaxing to this music, reading my book on the history of salt or the one on the future of the past. I even took the time to recommend it to people who want music to work by (perhaps in their cubes) rather than the MUZ-ack.
This is pure Brahms, no echoes of Beethoven, just the autumnal hue that graces so much of his music. One writer referred to the sonatas as "wordless songs". I can't think of a better way to describe this music. The piano sets a background for the music of the violin, which is the way I prefer it. There are some who like it the other way around, but I find that a bit odd since they are "violin" sonatas. The first is a 'reflective dialogue about the rain' as Austin Dumay put it in a Gramophone article about this music (Awards issue 2001). He also referred to the third as a 'solar epic, a dialogue with the world.' The idea of a dialogue is crucial in music. As played by Kaker and Peskanov this is exactly what you will hear in this recording. I thought of duos at times. These musicians seem to be listening to each other, making music and not just playing it.
Three years ago I reviewed two CD releases of the violin sonatas and recommended Frank and Serkin on London 455643-2. Comparing the London recording with the Naxos I find that Frank has a darker, throatier sound. There is almost a rasp to the voice. Serkin brings out things that I don't hear from Peskanov. In some respects I feel that Kaker and Peskanov's playing is more like "chamber music" whereas Frank and Serkin sound almost symphonic. Frank is passionate about the music; Kaker is no less so, but in a different way. That is one of the things I love about having different recordings of the same piece. Even if it is a bad one, I can learn what makes it bad and what makes the other less worse.
By the way, I have changed my thoughts a bit since the last review. Perlman and Ashkenazy on the EMI "GROC" series are simply too bombastic for the music. I now can better put my finger on what it is I don't care for about their approach.
Copyright © 2002, Robert Stumpf II