Related Links
Recommended Links

Site News
DVD-Audio Review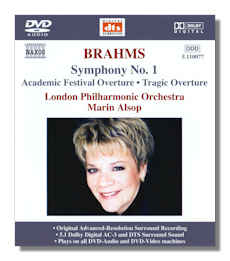 Symphony #1, Op. 68
Tragic Overture, Op. 81
Academic Festival Overture, Op. 80
London Philharmonic Orchestra/Marin Alsop
Naxos DVD-Audio 5.110077 5.0 Dolby Digital & DTS, 96kHz/24-bit 5.0 MLP
Also released on Hybrid Multichannel SACD 6.110077
Amazon - UK - Germany - Canada - France - Japan
This is an audio-only DVD that launches a cycle of Brahms symphonies by the American Marin Alsop, principal conductor of the Bournemouth Symphony Orchestra since 2002. I hate to bring gender into any review, but I must say that this talented artist will likely become the first woman appointed music director of one of the big-five American orchestras. Either that, or she will take over the reins of a major European ensemble. Mark my words. She knows the three essential things a superior conductor must know: how to capture the spirit and essence of the work in her mind, how to draw fine playing from her musicians, and how to mold that playing to fit her vision of the work.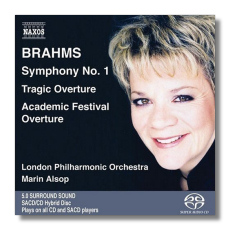 I was not overly enthusiastic about her recent Tchaikovsky Fourth, decent though it was. This Brahms First is a better effort, both in its interpretation and execution. It is among the slower renditions of the work, and though I prefer faster tempos in general (not only here but in most orchestral works), I find Alsop's reading fully convincing, with its especially lovely account of the second movement. The opening panel is dark and less threatening than what most listeners are accustomed to, but it still comes across with plenty of power and a strong sense of urgency.
The third movement has a playful serenity, while the range of emotions in the gigantic finale are captured in the proper spirit. In the end, Alsop makes a strong impression in this symphony, as she does in the two overtures that serve as fillers here. The Tragic is the better work in my opinion – I confess to finding the Academic Festival Overture far less compelling than I once did. The sound is slightly recessed on this DVD, but is clear and well-balanced. This is an impressive release and augurs fine things for the continued rise of Marin Alsop.
Copyright © 2005, Robert Cummings