CD Review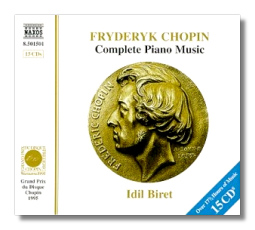 Complete Works for Piano
Ballades
Études
Préludes
Mazurkas
Nocturnes
Polonaises
Rondos
Sonatas
Variations
Waltzes
Piano Concertos and Piano/Orchestral Works
Miscellaneous Solo Pieces
Idil Biret, piano
Slovak State Philharmonic Orchestra (Košice)/Robert Stankovsky
Naxos 8.501501 DDD 15CDs
Naxos is not usually in the reissue business since its discs are already selling for a budget price. In this case, the reintroduction of this set, previously available on fifteen individual discs recorded in 1990-92, has more to do with generating some attention for a most worthwhile cycle. Idil Biret has also done the complete Rachmaninoff solo works for Naxos, and garnered generally positive reviews from across the globe. In that effort her approach was weighty and dark, probing and technically assured. Here, she tends to follow much the same path, underscoring Chopin's passion and emotions with a tone weighted more toward muscle than toward tenderness, but never trampling or slighting the composer's melodies or textures. She is a pianist who always thinks, always invests her performances with a point of view, while managing in the process never to allow the clouds of calculation and academicism to hover above the keyboard.
Biret plays the Polonaises about as well as anyone I've ever heard. Her C minor and Heroic Polonaises, opposite though their emotional worlds are, are splendidly rendered, and if I find the climax to her Polonaise Fantasie a bit detached, the piece still works overall. Even the normally corny-sounding Polonaise Militaire for once sounds noble. Her Ballades are also a success. I must confess that I love the First and could listen to recordings of it all day. This one and her accounts of the other three can easily stand with some of my favorites, Ashkenazy (Decca) and Zimerman (DG), though I would still give Kissin (RCA) the edge over all the others.
Her two sets of Études sparkle, and here she appropriately lightens her touch a bit. Her Mazurkas feature plenty of color, even if they occasionally turn eccentric. "Eccentric" may also apply in a more dominant way to her rendering of the Second Sonata. Her phrasing of the main theme in the first movement is muted and too precious for my taste. The rest of the work features enough elegance and muscle to make the overall performance worthwhile. I like her Third Sonata, the outer movements being especially successful.
Her Waltzes are sprightly and full of color, and fit well with her quirky nature. One might think that Biret's more serious and probing manner might subvert her performances in these pieces and in most of the lighter fare here, but she's just as effective in capturing Chopin's dance music and nationalism. She also deftly handles the subdued and darker moods of the Nocturnes. In fact, she is quite compelling in them: try her splendid accounts of the E Flat Major (Op. 9, #2) or the lovely F Major (Op. 15, #1). The Préludes, Scherzi and Impromptus are no less successful, featuring many fine performances.
The Concertos are also impressive accounts, featuring decent accompaniment by Robert Stankovsky and this Košice-based ensemble. Of course, numerous other recordings offer better orchestral support, but Biret delivers sensitive, beautifully rendered performances that can stand in the company of the best. The recent Argerich (EMI) and Zimerman (DG) both offered rather different but strongly compelling approaches. The other items here for piano and orchestra, Krakówiak, Fantasia on Polish Airs, and the "Là ci darem" Variations are also quite competitive efforts.
In the end, anyone wanting a Chopin cycle, will be well served by this set. Biret is one of the finest pianists before the public today, and one reason for her success is that she is never boring. You may not like everything she does, but she will always capture your attention and stir your senses. There are many iconic figures who come to mind in the interpretation of Chopin – Rubinstein, Argerich, Cliburn, and more than a few others. I'm not sure Biret quite ranks in their company, but if she's a rung or so below them, that would still put her well above most pianists in this repertory, past and present. By the way these fifteen volumes are still available individually, in case a potential buyer doesn't want the whole set. Naxos' sound is generally quite good and the album notes are most informative. Definitely a rewarding reissue.
Copyright © 2000, Robert Cummings