Related Links
Recommended Links

Site News
Blu-ray Review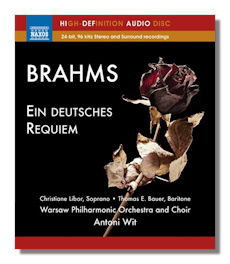 Ein Deutsches Requiem (A German Requiem), Op. 45
Christiane Libor, soprano
Thomas E. Bauer, baritone
Warsaw Philharmonic Orchestra & Choir/Antoni Wit
Naxos Blu-ray NBD0039 75m (audio only) LPCM Stereo DTS HD Master Audio
As you would expect from veteran Polish conductor Antoni Wit, Brahms' music here is phrased sensitively and with the utmost attention to detail and to proper vocal and instrumental balance. Tempos are definitely on the slow side but not egregiously so and the singing of the two soloists, soprano Christiane Libor and baritone Thomas E. Bauer, is thoroughly convincing. Libor has a ravishingly beautiful voice and knows how to use it; Bauer's rich baritone voice is resplendent and his sense for drama, especially in #6 (Denn wir haben hie keine bleibende Statt) is admirable. The chorus sings with total commitment throughout as well and Wit draws splendid playing from his Warsaw Philharmonic Orchestra. The sound reproduction is clear and well balanced on this High Definition audio Blu-ray disc, despite the fact that the chorus sometimes seems to have a slight haziness about it in loud passages. Having written nothing but kudos thus far, I suppose I could stop the review right here and give a strong recommendation.
But the problem surrounding this new Naxos disc is there is so much worthy competition not only from other labels but from Naxos itself! In 2013 I reviewed the Marin Alsop version of this piece on a Naxos CD (Naxos 8.572996) and its more vital take, with much faster tempos (about eleven minutes faster than Wit), and excellent pair of soloists made it a prime contender. It's not that Wit is outclassed by Alsop: if you view the Brahms Requiem with a darker, more ponderous perspective (which I don't), Wit may well be your man for the job. Christian Thielemann is seven or eight minutes slower than Wit on a Unitel Classica DVD I reviewed here (Unitel Classics DVD 703308) in 2007 and he may well take honors for the slowest Brahms Requiem, at least in recent times. Yet, he is convincing in his own way. To confuse matters further, Marek Janowski on Pentatone (Pentatone Classics 5186361 - covered in the same review as the Thielemann DVD) is also compelling, but John Eliot Gardiner, reviewed in 2012 (Soli Deo Gloria SDG706), is even more so. His tempos were nearly as fast Alsop's and the singing and his sensitive shaping of the score are first rate.
So, you ask, what's the recommendation? If you're a Brahms Requiem addict like me and your budget allows, I'd advise acquiring this new effort by Wit (it's also available in CD format) as well as the Alsop and Gardiner discs, if you don't already own them.
Copyright © 2014, Robert Cummings