Related Links
Recommended Links

Site News
CD Review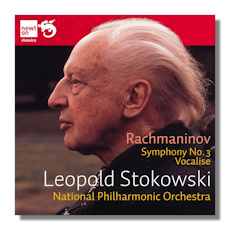 National Philharmonic Orchestra/Leopold Stokowski
Newton Classics 8802024
Originally recorded in 1975 at the young age of 93, this is ranked as the only recommended recording of the symphony in American Record Guide's overview of Rachmaninoff's music (I'm not taking sides in the debate on the spelling of his name…what appears above is what is on the jacket label of this and the earlier release). That Desmar LP was later issued on EMI 66759 and sounded spectacular. This new release is essentially the same. At times I think it is a tad warmer than the EMI but at other times I think it's the same. If you have the earlier release I see no need to duplicate it, but if not grab this or maybe send it to your son (as I plan to do).
I think the reviewer in ARG put it best: "Rachmaninoff chose Stokowski and the Philadelphia Orchestra for the first performance. Stokowski has his own kind of flexibility and gives a more vivid, dramatic, and colorful performance than the composer have managed. (The writer is comparing Stokowski's with Rachmaninoff's) He is able to connect the episodes into something coherent. And his way with strings often saves the day."
Rachmaninoff was a ROMANTIC composer, hailed by some as the scion of Tchaikovsky. It takes a ROMANTIC conductor to do the music justice and Stokowski does it better than anyone with this hand-picked orchestra. To hear the strings in the Vocalise, the plaintive English horn emerging from the texture, is just a mind-blowing experience.
Copyright © 2010, Robert Stumpf II