CD Review
The Stokowski Sound: Desmar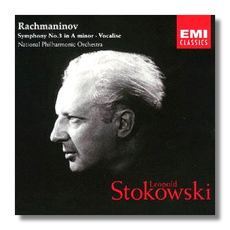 Symphony #3 in A minor, Op. 44 (1936)
Vocalise, Op. 34/14 (1915)
National Philharmonic Orchestra/Leopold Stokowski
EMI Classics 66759 ADD 46:19
I will always remember when I purchased this Desmar LP. I was a tyro in classical music, but already I had developed a liking for Stokowski. I was shopping at Liberty Records in Ann Arbor, Michigan. It was one of the few stores that still had listening rooms. I picked up the album and went to pay for it, but must not have looked like the type that appreciates classical music or else has poor equipment. The clerk looked at me and informed me that, 'unless you have very good equipment you won't appreciate this recording'. The pigeon-holing of people by types has bothered me since I was a kid (maybe I still am) and is fostered, as anyone can see, by movies and TV. I love it when I am shopping for classical discs and see a couple I know walk into the area both with shaved heads, wearing their motorcycle jackets discussing the merits of various recordings. We need to have our preconceptions put on trial as often as possible and not make judgments about people based on external matters like the kind of music they most often listen to, etc. I will always see the cover of the LP (and on the CD, too) and remember the object lesson in people's prejudice. I still own the LP.
Sorry about the digression. I have been awaiting the CD release of thi LP for as long as there have been CDs. Leopold Stokowski never made a finer recording than this. Given that he made so many great ones, then it is obvious that this is the highest praise you can imagine. This is a King of Kings of recordings, and not just for Stokowski-files.
Stokowski's affiliation with Rachmaninoff goes back to 1910, when the composer made his first tour of the US. He appeared with Stokowski and the Cincinnati Orchestra performing his Second Piano Concerto. Their association continued throughout the composer's life. Stokowski gave the world première of the Third Symphony, then, oddly, didn't perform i again until this recording. The Maestro's affection for the piece, however, can certainly be heard in this recording. The plaintive opening melody, with clarinet just over two stopped horns and a muted cello, followed by the razor sharp attack is absolutely riveting. (I wonder if Stokowski used more than one cello in the opening? It certainly sounds like more than one.) Stokowski's interpretation then goes on capturing every emotion in the notes: pastoral, exciting, dramatic, I could go one. On through the quirky final movement, a joyous conclusion, Stokowski is the Gandalf of the orchestra!!
As part of my listenings, I got out Rachmaninoff's own, 1939, recording with the Philadelphia Orchestra. What is amazing is the similarities between the two interpretations! You hear the longing for a lost time, lost friends. In both you can hear the symphony as a sort-of concerto for orchestra. As pointed out in the liner notes for the Desmar LP, in fact Rachmaninoff wrote the work with the Philadelphia Orchestra principals in mind.
There are some important differences between the two recordings. First Stokowski plays the entire piece, uncut. This adds about four minutes to the first movement. Even Rachmaninoff didn't observe the first movement repeat for his recording. The only conductor I know who also observes it is Ashkenazy in his fine account on London. I confess that I miss it when the repeat is not followed, there is just more to delight in when it's observed. I wonder if Stokowski observed it in the world première??? The second difference is, of course, the sound. It is not however, just because this recording is in stereo. It is because this recording is of demonstration quality. As in the Philadelphia recording, you can delight in the special contributions which are made by the soloists, but here it is absolutely sinful in its beauty.
I have always preferred Rachmaninoff's Third over his Second Symphony, so I was surprised to read that it met with generally disagreeable response on its première. To my ears it is tighter than the Second Symphony but still retains the lush melodies so much a part of Rachmaninoff's music.
I should mention that Ed Johnson's insert notes are informative regarding Stokowski's background with the music. The liner notes for the LP were also consulted as was Michael Steinberg's book, The Symphony. Finally, I checked Oliver Daniel's authoritative biography o Leopold Stokowski. (Anyone wanting copies should let me know, I am abl to get them for you through Daniel's estate.)
You can put away your other recordings of the Rachmaninoff Symphony #3. This has always been the recording I have been using as the paradigm when considering other recordings, and they all fall short of this dynamic, pulsing recording of demonstration quality. The Ashkenazy comes close, but the solos in Stokowski's recording are more "Russian" and their phrasing is more characterful. The Jansons on EMI is a pale copy. The fact that Stokowski recorded this at age 93 is just mind boggling. He was truly a magician and this recording is evidence of Stokowski's wizardry.
Post Script: After penning these comments I spent many enjoyable hours the next couple of days just being able to listen to this disc without feeling like I had to write. This will be listened to often and has a special place in my collection.
Copyright © 1998, Robert Stumpf II