CD Review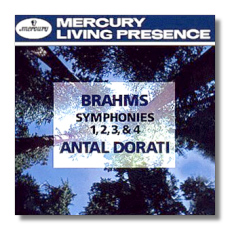 Symphonies
Symphony #1 in C minor, Op. 68 (1876)
Symphony #2 in D Major, Op. 73 * (1877)
Symphony #3 in F Major, Op. 90 (1883)
Symphony #4 in E minor, Op. 98 (1885)
London Symphony Orchestra/Antál Doráti
* Minneapolis Symphony Orchestra/Antál Doráti
Mercury Living Presence 434380-2 ADD 2CDs 2:32:43
To a certain segment of classical music enthusiasts, purchase of this new reissue will be a foregone action of some urgency. Why? In the late 1950s and early '60s Mercury Records produced a number of recordings hailed as landmarks in sound reproduction and mastering. To this day, some assert that Mercury's recording techniques of that era remain unsurpassed. They note the close-up clarity of the sonics and the naturalness of the soundstage. I remember my first hearing of Byron Janis playing Prokofieff's Third and Rachmaninoff's First on an LP when it came out in the early '60s on Mercury: the sound was spectacular, so vivid, so lifelife, so powerful. I wondered then why the other labels simply didn't copy Mercury's techniques and produce LPs of that impressive quality. Hearing these Brahms performances from December 1957 (#2), June 1959 (#1) and July 1963 (#3 and 4), one marvels still at the sonic properties – and also at the consistency of the readings by the late Antál Doráti.
I must note right off that the tempos here are among the fastest in the complete Brahms Symphony sets. Ormandy, Maazel, Walter, Masur, Kertész and others are significantly slower. Levine and Wand, though, both on RCA, are also brisk, each actually clocking in ahead of Doráti in the Fourth Symphony. In the Third's first two movements, Doráti is surprisingly relaxed, proving he was certainly not inflexible in his approach to Brahms. Of course, tempo is but one small part of the overall interpretive persona of a conductor in a project like this. Doráti always manages to give forward thrust to his readings here, adroitly pointing up the classical, lean side of Brahms, although never slighting the innate Romantic character. Contrapuntal detail emerges cleanly, orchestral balances are well-judged, and Doráti interprets each work as a unified whole, always eschewing the tendency to italicize for some momentary effect, or to turn episodic due to a lack of structural grasp. Try the first movement of the First, where the strings slash away relentlessly to convey anxiety and a sense of doom lurking around the corner; or hear the peaceful, joyous beauty of the second movement of the Third flow by seamlessly and with such mesmerizing charm. In short, these readings, while not probing in nature, are insightful and never sound extreme or hasty, despite their briskness.
To those who think that Doráti's Haydn and Bartók were his only worthwhile major contributions, this set could change their minds. It may not be at the top of the heap of Brahms Symphony cycles, but it holds its own quite well against most comers. Both orchestras play admirably, even if the Minneapolis Symphony (now called the Minnesota Orchestra) is a bit scrawny-sounding. (Back then it probably was a smaller ensemble.) Mercury provides excellent notes and interesting details on the recordings and techniques used. A most desirable reissue.
Copyright © 1999 Robert Cummings