CD Review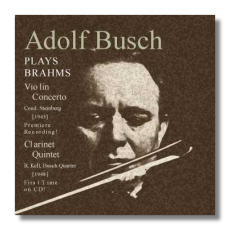 Violin Concerto in D Major, Op. 77
Clarinet Quintet, Op. 115
Adolf Busch, violin
Reginald Kell, clarinet
Busch Quartet
Philharmonic-Symphony Orchestra (New York)/William Steinberg
Music & Arts CD-1107 AAD monaural 66:04
According to Music & Arts, this concerto performance has never been released in any format, and the quintet has never been released on CD until now. Both performances are memorable, however, and this CD offers far more pleasures than frustrations.
Adolf Busch (1891-1952) performed extensively as a chamber musician; his work as a soloist tends to be more obscure today. Nevertheless, the Brahms concerto was a work he had played many times from the very start of his career. He made commercial recordings of concertos by Bach and Beethoven, but the third "B" never materialized, which makes this recording all the more welcome.
The date was July 18, 1943, the place was Carnegie Hall, and the occasion was the unfortunately named U.S. Rubber radio concert known as "the Rubber Hour." (Presumably this was for listeners who enjoyed bouncy music.) Busch's conductor was William Steinberg, an underrated musician, but an excellent interpreter of Beethoven, Brahms, and Bruckner. Busch and Steinberg, friends as well as colleagues, had played the Brahms concerto several years earlier in Palestine, and one of the nice things about the present performance is the way that soloist and conductor see eye-to-eye on everything.
A critic at the concert wrote that Busch "at times lacked some of the breadth of style" he expected in this work. Annotator Tully Potter wonders whether the performers felt it necessary to speed things up for the post-prandial matinee audience. At any rate, with a total timing of 35:02, this is not one of your more elegiac Brahms Violin Concertos. I don't find it to be lacking in Brahmsian "breadth of style," however.
Although Busch has moments of discomfort in the Adagio and in the Finale, this is a fine, involved performance, full of integrity and intelligence. Like Heifetz, he colors his tone liberally, but he never lets ego get the best of him. He plays his own cadenza in the first movement. Steinberg is a solid partner, offering both common sense and rhythmic interest. Almost sixty years later, the broadcast sound, while congested, is not at all difficult to wrap one's ears around.
Reginald Kell and the Busch Quartet recorded Brahms' Clarinet Quintet for HMV in 1937. At that time, the Quartet's members were violinists Busch and Gösta Andreasson, violist Karl Doktor, and cellist Hermann Busch. This live1948 performance, recorded in New York City's Town Hall, finds Andreasson and Doktor absent, with Straumann and Gottesmann taking their place. Tempos are faster in the live performance, and there is less technical polish, but the interpretation remains very compelling. The "you are there" sense of occasion compensates for the faults in intonation and the watery, somewhat fluttery sound. Audience members applaud liberally, even before the last note has died away. Still, no one should be scared away from this CD by such minor faults. Kell, as always, is a godsend, and stylistically, he and the Busches are a perfect match.
Copyright © 2002, Raymond Tuttle