CD Review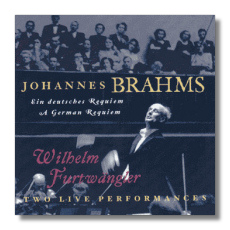 Ein deutsches Requiem
Kerstin Lindberg-Torlind, soprano
Bernhard Sönnerstedt, baritone
Stockholm Konsertförenings Orkester & Musikalista Sällskapet Kör/Wilhelm Furtwängler
Elisabeth Schwarzkopf, soprano
Hans Hotter, baritone
Orchester und Chor der Luzerner Festwochen/Wilhelm Furtwängler 2 live performances: 11/19/1948 and 8/20/1947
Music & Arts CD 1085(2) AAD monaural 2CDs: 79:25, 79:17
Surprisingly, given his affinity for the music of Johannes Brahms, Wilhelm Furtwängler made no "official" recordings of Brahms' German Requiem. For some reason, Walter Legge, EMI's artistic director, was reluctant, or at least seemed to prefer conductor Herbert von Karajan instead. However, three postwar performances with Furtwängler survive on archival tapes or discs, and two of them are released here. (The third, from 1951, pairs the conductor with the Vienna Philharmonic, soprano Irmgard Seefried, and baritone Dietrich Fischer-Dieskau. Unfortunately, the sound is not good, a chunk of the sixth movement is missing.)
The 1948 Stockholm performance was reissued by Unicorn in the LP era. If you're interested in Furtwängler's views on the German Requiem, this is the performance to hear. Furtwängler led a reading of unusual intensity on this date. It's not that he emphasizes the music's contrasts, although these are given their due. It's more a matter of how he makes the music flow from one measure, phrase, section, and movement to the next; this is A German Requiem as a broad, inexorable river taking the listener to the peace of the afterlife. There is comfort here, but it never cloys or is sentimentalized. Strength provides the drama, not the application of sweetness or spurious effects. Although the two Swedish soloists are provincial, the chorus gives a strong, inspired performance, and the orchestra holds its own. Technical perfection won't be found here, but the missed notes and moments of ragged ensemble in no way detract from this reading. A second-generation sound source (disc, not tape) gives listenable, albeit necessarily limited, results.
With Elisabeth Schwarzkopf and Hans Hotter on board, no one can call the 1947 performance's soloists provincial. Schwarzkopf is radiant in her solos (her tendency to scoop notes notwithstanding), and Hotter is authoritative. Conceptually, there are few differences between the two readings, and movement timings differ very little. The problem with this earlier recording is sonic. At the opening of the work, swishing surface noise from the original 78-rpm discs almost obscures the performance. The noise is worst at the beginning of sides, and not all sides are affected – remember, sides needed to be changed every four to five minutes – but when it's present, the noise is very distracting. The recording distorts at forte or louder. Also, many of the sides are affected by "wow," a variation in speed that resembles the effects of seasickness. Supposedly this has been corrected with a special computer program created by one Dr. Dimitrios Antsos. If this release is "corrected," the uncorrected version must be truly appalling. The end of the last movement is missing, too. In short, it is a labor of love to listen to this Luzern performance. The Stockholm reading, although it has some weaker components, is far more "ear friendly," and I will be returning to it more frequently.
Music & Arts's booklet includes no texts, but it does contain good essays by Roger Dettmer and Mark W. Kluge.
Copyright © 2001, Raymond Tuttle