CD Review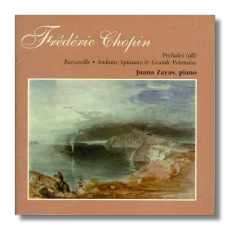 Préludes
24 Préludes, Op. 28 (1849)
Andante spianato & Grande Polonaise brillante in E Flat Major, Op. 22 (1834)
Barcarolle in F Sharp Major, Op. 60 (1846)
Juana Zayas, piano
Music & Arts CD-1006 DDD 67:06
Like Jorge Bolet, Juana Zayas was born in Cuba and is a thrilling exponent of Chopin's Préludes. However, while Bolet is a household name (in households that love classical music, that is), mention Juana Zayas to all but a handful of people and you are likely to get not a glimmer of recognition. There's something very satisfying about knowing a secret, and with this kind of secret, it's even more satisfying to share the secret with someone else. So let me do so: this recording of Chopin's piano music is one of the finest available, and Juana Zayas's talent makes her eligible to be mentioned in the same breath as Martha Argerich, as well as Jorge Bolet.
Why isn't she better known? As a child, she studied with her mother, and then in Havana's Peyrellade Conservatory. At 17, she enrolled at the National Conservatory of Music in Paris where she continued to excel. It was in Paris that she met her husband, an accomplished flutist and a chemistry student. Zayas won an international piano competition in Geneva, got married, had three sons, and eventually ended up in America where she studied with David Bar-Illan, among others. Her New York City debut took place in 1977 in Alice Tully Hall. New York Times critic Harold C. Schonberg, a man who knows his pianists, was ecstatic, and in a year-end retrospective he mentioned only two of them as having given noteworthy recitals: Bolet and Zayas. Nevertheless, for Zayas, family life took precedence over an international career, and her recital dates have been few and far between, although she seems to be playing more now that her children are grown. Her discography includes the present CD (recorded in 1996), Chopin's Études (from 1983 and also highly acclaimed - Music & Arts CD-891), and a disc of music by American composer Joseph Fennimore.
What is her playing like? She is a strong pianist, and her Chopin is characterized by big gestures, although never to the point of exaggeration. The forward movement of the music is emphasized, even in a more restful piece such as the Andante spianato, which also displays her beautifully singing tone. Her tempos tend to be fast, not rushed, and her use of the pedal is sensitive. In short, she has no Achilles's heel as far as technique is concerned, and her interpretations are passionate, yet not ruled by passion. On this disc, she and the Steinway she plays have been given excellent sound by engineers Tom Lazarus and Virginia Read of Classic Sound.
In short, even if you have other recordings of Chopin's Préludes, you need to make room for this one. Juana Zayas is phenomenal.
Copyright © 1999, Raymond Tuttle