Related Links
Recommended Links

Site News
CD Review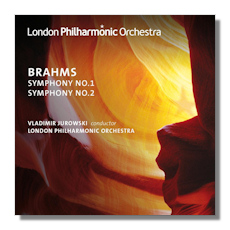 Symphony #1 in C minor, Op. 68
Symphony #2 in D Major, Op. 73
London Philharmonic Orchestra/Vladimir Jurowski
London Philharmonic LPO-0043 2CDs
It just wouldn't be an update at Classical Net if I didn't sneak some Brahms in here. These are live recordings from 2010, but they basically seem new, especially since I've seen other critical outlets just getting to them now. Before I even comment on the music, I have to say that Vladimir Jurowski has done some amazing things in London, and the LPO label has been a very appreciable mix of historical archival material and high quality new releases. Together, conductor and in-house label have thus far been a very formidable team, creating high quality results despite recording music that brings fierce competition on disc.
These Brahms Symphonies are lighter than usual, hardly matching Klemperer and the Philharmonia for sheer weight. Neither are they misguided period readings; Jurowski uses a full, rich sound from his forces. As with most English performances, I would have ideally liked a firmer bass line from the low strings. Still, the lightness fits the overall approach, which brings many details to life through careful phrasing and some exceptionally fine wind playing. The Andante of the 1st Symphony is simply amazing in its beauty, while the Allegretto simply sparkles. The Finale lacks the sheer energy and grandiosity that the music needs, despite some very intelligent ensemble work. Having gone through cycles from conductors as diverse as Wand and Chailly – the latter of whom is on a bizarre quest to make everything sound period-practiced – since I considered this set for review, I can safely say that Jurowski is comfortably middle-of-the-road in terms of what he takes and leaves from modern scholarship.
The Second Symphony seems to cause a lot of conductors to have problems. Historically, that "honor" has gone to the Third, simply by virtue of its construction and technical demands. But now that any orchestra can conceivably tackle Brahms with some semblance of musicality, the Second has been – in my view – a bigger mess lately. This is mostly due to approach; conductors with "ideas" haven't really found time to develop a cogent vision of the work. Is it light and sunny? Or is it darkly dramatic and foreshadowing the later, angst-ridden Fourth. These are legitimate musical questions in the correct context, but if you are going to ask, we expect answers as listeners. Where Jurowski – and also Chailly on Decca – stumble, is that the answer can't be "We'll simply go fast." Jurowski at least retains some drama and strength, essential for a good reading of this music. But it's all too light and ultimately lacks the richness and depth that Brahms demands. The sound from these live performances accurately preserves the strengths and weaknesses of the approach here. All told, this is a generous if somewhat uneven package that does not reach the heights of Jurowski's finest efforts with the London Philharmonic Orchestra.
Copyright © 2015, Brian Wigman