Related Links
Recommended Links

Site News
CD Review
Jansen Plays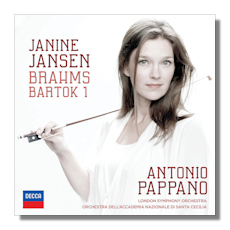 Janine Jansen, violin
Orchestra of the National Academy of Saint Cecilia/Antonio Pappano
* London Symphony Orchestra/Antonio Pappano
Decca Classics 4788412
This is an interesting coupling in which two excellent artists come together and occasionally appear to be at odds. The back cover art shows the now-mature Jansen arm-wrestling the now-veteran Pappano. It's a silly picture, but it also illustrates how much of a challenge these pieces – the Brahms especially – can be to manage. Decca has several very fine versions of the Brahms already, with the most recent being the acclaimed Kavakos with Riccardo Chailly at the helm. The British have already praised this album; it was in the U.K. first and did not reach the U.S. market until January.
The Brahms is quite good. The Saint Cecilia forces have a dark and weighty sound that fits this music well, though Pappano takes the opening movement very seriously and has a tendency to let the orchestral parts sag in places. That said, in an age where everything is getting lighter and quicker, this framework recalls Klemperer. Conversely, the slow movement is swiftly flowing and sings well. The woodwind solos are beautiful, and never drag. Janine Jansen is of course a great soloist, though she lacks both the roundness of tone gifted to Oistrakh or the laser beam accuracy of a Heifetz. Then again, so does everyone, and she plays with tremendous personality and a real understanding of Brahms' moods. She and Pappano generally work well together, even if there are places in which I feel she and the conductor are not on the same page. Her flexible, almost improvisatory phrasing seems incongruent with the conductor's rock solid backdrop. Still, the English have always been suckers for this "noble" kind of conception, and I the same beauty and seriousness of purpose that has defined the work as a whole.
Pappano leads the London Symphony Orchestra for the Bartók, which is far less recorded than the composer's Violin Concerto #2. It makes sense to pair Brahms – of Hungarian Dances fame – with an actual Hungarian, and the Kavakos release also did so. Here, the London Symphony sounds outstanding, and veteran collectors may remember that they made some terrific recordings of the composer's music with Solti back in the day for this same label. Pappano clearly understands the sound world that the music requires to be successful. And Jansen makes this music even more her own than she does the Brahms. Additionally, there seems to be a more harmonious meeting of the minds in this latter work. Decca's sound favors the violin, but not to the point where you can't enjoy the disc. Maybe the Brahms is a little heavy, and perhaps you weren't expecting the Bartók. Nevertheless, this is excellent.
Copyright © 2016, Brian Wigman