Related Links
Recommended Links

Site News
CD Review
Radio Days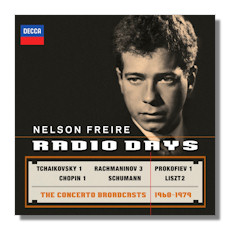 The Concerto Broadcasts 1969-1979
Nelson Freire, piano
1 NDR Symphony Orchestra/Heinz Wallberg
2 Bavarian Radio Symphony Orchestra/Eleazar de Carvalho
3 Bavarian Radio Symphony Orchestra/Yuri Ahronovitch
5 Bavarian Radio Symphony Orchestra/Reinhard Peters
4 Rotterdam Philharmonic Orchestra/David Zinman
6 ORTF Philharmonic Orchestra/Kurt Masur
Decca Classics 4786772 2CDs
This set got a reasonable amount of attention from Universal Music, and celebrates Nelson Freire's 70th birthday. These recordings were personally selected by the pianist, and he gives indispensible details in his booklet interview about how each recording came about and with whom. It is a rare chance to hear the younger Friere, who remains a major artist by any standard even as he ages. He's been – by his own accounts and those of his label – an elusive artist on disc, much like friend Martha Argerich. Thus, these radio broadcasts are a must for piano fans.
While the collaborations with David Zinman and Kurt Masur got all the marketing attention, I suspect that collections will want to hear the three recordings of Kubelik's orchestra under three largely forgotten guests. In his interview, Freire points out that the Schumann is a rarity for him in the most literal sense of the word; he has not played it before or since this reading under Reinhard Peters. It's a fine reading that confirms the work as an excellent piece of music. Fellow countryman Eleazar de Carvalho leads a marvelous Liszt 2nd Concerto, while Yuri Ahronovitch leads a wonderful Prokofieff 1st.
Freire admits he was very nervous to play the Chopin 1st, but it went well in concert anyways. That assessment is proven correct by this poetic reading that features some surprisingly aggressive orchestral work (check out the Finale's slashing opening). Otherwise, Heinz Wallberg stays out of the way, which is exactly what you are supposed to do in this music. While his friend Martha Argerich probably is the top recommendation in this music, I see no reason not to be thrilled to have this one too, in acceptable sound. As for the rest, Zinman and Freire work well together, and this Rachmaninoff 3rd is more exciting than what Zinman generally provides today. This holds true for the Masur collaboration as well; I find him an entirely capable but occasionally very dull conductor who nevertheless has done some very good things live. This is one of them. The orchestral playing and sound varies quite a bit from work to work, and this is probably a specialist item as a result. But it remains an excellent tribute to an underrated and always musical pianist.
Copyright © 2014, Brian Wigman