CD Review
3 Classic Albums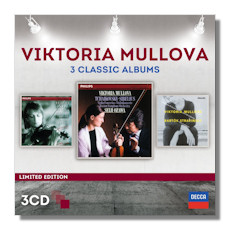 Viktoria Mullova, violin
* Berlin Philharmonic Orchestra/Claudio Abbado
** Boston Symphony Orchestra/Seiji Ozawa
*** Los Angeles Philharmonic Orchestra/Esa-Pekka Salonen
Decca Records 4786713
The grammarian in me has been calling this series "Three Classic Albums", but it's being advertised as "3", so I'll go with the flow. Right, the music. This set is worthwhile on numerous levels. It duplicates none of the concertos from Universal's Anne-Sophie Mutter set within the same series, it makes available some hard-to-find discs, and it showcases a major talent at her best. In fact, picking up the Mutter "3"-fer in conjunction with this one is a remarkably simple and inexpensive way to get many of the great violin concertos into your collection, from the Classical period on up.
First up is the seemingly unavoidable Sibelius/Tchaikovsky pairing, one that has launched many a young career. Itzhak Perlman recorded these very same pieces for his own debut album on RCA, and with this very orchestra under Erich Leinsdorf. That's a fine disc, but Perlman would later surpass those efforts in later recordings. Nor do I find Leinsdorf an ideal partner, with the comically booming percussion in the Sibelius perhaps the biggest audible gaffe. These current readings are much more satisfying overall. Mullova has not redone these pieces, nor is she prone to recording much at all, so these early efforts deserve credit for holding up so well. Ozawa proves himself to be a sensitive collaborator, and the Boston Symphony plays far better for him than they did for Leinsdorf years before. Mullova has a reputation for being a very serious artist, and her sense of commitment and purpose is occasionally undermined by a lack of playfulness. The Tchaikovsky sounds stunning from a technical perspective then, but misses some the romantic depth of feeling most of us look for in this music. On the other hand, the Sibelius responds very well to the violinist's unique temperament, and still counts among the finer versions around. The 1985 sound remains equally impressive.
In the Brahms, the aforementioned lack of playfulness ironically hurts this most serious of concertos. Mullova is again very good, but everything is just too straight-laced for my liking. Recorded live in Tokyo, Japan, the 1992 recording captures the violinist and Abbado's Philharmonic faithfully, but also highlights what goes wrong. There is insufficient rhythmic and dynamic contrast – in the first movement especially – and Abbado's typically fine accompaniments pale in comparison to what he would later provide for Gil Shaham on Deutsche Grammophon. That said, the live setting does coax some genuine virtuoso fireworks, and the Berlin players certainly give one of their finer efforts in a work they always did quite well. Of the three discs, this stands as both the shortest and least successful, although it has been hard to acquire lately. Good, not great.
The final disc is possibly the most important; two major 20th-Century masterpieces played by a team that does modern music better than anybody. Esa-Pekka Salonen made modern music a cornerstone of his superlative years with his Los Angeles Philharmonic, and Mullova is so compelling an artist that you would expect this to be excellent. It is. The Stravinsky finds the soloist downplaying some of the folksy lightness of some readings to give a rendition of unusual seriousness and purpose. This gives the inner Arias a brooding, highly-charged feel, complimented by some tremendous playing from the Philharmonic. The finale is dispatched with ease, but with the same deadpan approach. I suspect many with enjoy it, even if it feels devoid of the fun that others have brought to it. In the Bartók, Mullova and Salonen give us a reference edition. The Los Angeles players outdo themselves, even though (in both works) Mullova is overly-milked and her tone is huge. The violinist is direct, forceful, and again very serious, although the approach is quite valid and works to icy perfection. Salonen conducts masterfully, and aside from the giant violin sound, everything is well-caught. A bargain, and a great introduction to an highly individual artist.
Copyright © 2014, Brian Wigman