CD Review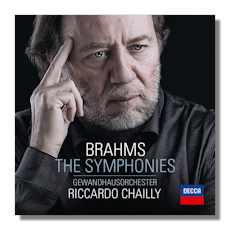 The Symphonies
Symphony #1 in C minor, Op. 68
(Original first performance version of Andante
included on separate track)
Symphony #2 in D Major, Op. 73
Symphony #3 in F Major, Op. 90
Symphony #4 in E minor, Op. 98
(Alternative opening of Symphony #4
included on separate track)
Tragic Overture, Op. 81
Intermezzos, Op. 116 #1 & 4 (arr. by Paul Klengel)
Variations on a Theme by Joseph Haydn, Op. 56a
Liebeslieder-Walzer, Op. 52 #1,2,4-6,8,9,11 & Op. 65 #9
Academic Festival Overture, Op. 80
Hungarian Dances #1, 3 & 10
Gewandhaus Orchestra/Riccardo Chailly
Decca 4785344 3CDs 78+79+77mins
When Mr. Robert Cummings reviewed this set for Classical Net in February, I had already received my own copy from Universal. I chose not to review right away, instead deciding to wait for a while. Please, read his review of this set if you've not done so; his work is excellent and very thought-provoking. Here on three jam-packed discs, beautifully and innovatively packaged, we have yet another Brahms cycle. While very good in places, I find the set lacking in others.
The playing of the Gewandhaus in this music is superlative, and Decca's sonics are warm and full, so any issues I have rest with Chailly. His Beethoven set with these forces was outstanding, his Brahms is somewhat less so. It is an improvement on his beautifully played but somewhat unimaginative Concertgebouw set, also on Decca and difficult to locate. Imagination is hardly the issue here. The conductor has clearly thought long and hard about these scores, and has an orchestra willing and able to put his ideas into practice. So we find a Symphony #1 that bristles with energy and propulsive drive. It's a little lightweight for my tastes, and almost feels rushed in places. The excitement is undeniable, but so too is the sense that Brahms' textures aren't just being clarified, they are being glossed over. Considering that his accompaniments for the concertos have historically been rock-solid, this comes as a bit of a surprise.
The Symphony #3 that shares the disc is admirably clear and light on its feet. Again, it just feels a touch rushed in places, and I'm not sure the structure of the work benefits from that. Traditionalists like Bruno Walter also played this work very quickly, but I feel like something is missing here. A certain weight, perhaps? I find myself impressed, but not especially moved. There are some nice dynamic touches here and there, but also some odd tempo shifts that don't convince. The playing though, is glorious, and if you think Brahms' Symphony #3 can't live dangerously anymore, this might be the performance that renews your faith, so to speak. Charles Mackerras played this work even faster, but he lacks Chailly's world-class players.
I concur with Robert Cummings when he mentions the unrest that Chailly finds in the Symphony #2, which gives it a welcome sense of individuality. In no way was this present in the Concertgebouw reading of old, which featured basically traditional tempos and almost unfairly polished playing. That's not to say that there isn't much beauty here, it's simply a different kind, from a different emotional perspective. Chailly has shaved some five or six minutes off his earlier reading, and it shows. There are times – yet again – where slowing things down might have allowed for a greater range of expression. Still, the Finale proves to be quite exciting, and splendidly executed. Compared to his earlier version, this is much more compelling, and shows the effort that the conductor is willing to give on behalf of the composer.
In the Symphony #4, the first movement feels like an afterthought, despite some outstanding contributions from the horns and strings. I find the winds to be somewhat faceless in character, while the main theme is consistently underplayed. Listening to conductors as diverse as Mackerras and Karajan, it seems that Chailly fails to capture the music's ebb and flow. The inner movements are very well paced, and have the tension that the opening movement lacked. The texturing in the Andante is lovely, although I still find the woodwinds curiously subdued in nature. This is a tragic work, not an unassuming one. The Allegro Giocoso features some altogether more interesting and involved playing, while the final movement is again excellent, if again a bit lighter than expected.
Disc three is full of goodies that you may or may not want. The Tragic Overture is more transparent than usual, the Academic Festival less boring. Both are excellent. Some of the qualities lacking in the symphonies overall – namely weight and intensity – are in evidence here. The Haydn Variations also impress. The three Hungarian Dances have a true Brahms sound, and capture all the rich folksiness that these chestnuts demand. The Andante from the Symphony #1 isn't needed any more that the original opening to the Symphony #4 that ends disc two, but at least this has value as a complete thought. The rest of the disc is given over to transcriptions, none of them especially good. The Waltzes were at least done by the composer himself, but the originals are audibly superior. The Intermezzos are pretty, well done, and forgettable. They say nothing about Brahms' mastery of the piano.
Ultimately, while I applaud Chailly's willingness to rethink his study of Brahms' orchestral works, the results are uneven. Universal has some time-honored Brahms sets still in print, including Karajan (twice), Abbado (reviewed by myself this month), Levine (found in Japan or ArkivMusic), Solti (surprisingly excellent), and Bohm. Lesser cycles by Bernstein and Doráti nonetheless have admirers. For all the positive press this set has acquired, I can't help but think that much of that comes from the need to be "different" in classical music. This is indeed different, but at times doesn't sound much like Brahms, and that should have listeners approaching with caution. With the passing of Abbado, Chailly is the undisputed Brahms conductor on Universal's roster, and for that reason I wish I could be more consistently enthusiastic.
Copyright © 2014, Brian Wigman