CD Review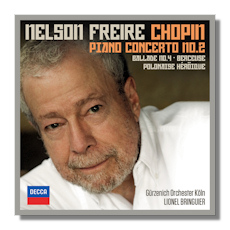 Impromptu #3 in G Flat Major, Op. 51
Ballade #4 in F minor, Op. 52
Berceuse in D Flat Major, Op. 57
Mazurka in G Major, Op. 50 #1
Mazurka in A Flat Major, Op. 50 #2
Mazurka in C Sharp minor, Op. 50 #3
Polonaise in A Flat Major "Polonaise héroique", Op. 53
Concerto for Piano #2 in F minor, Op. 21 *
Nelson Freire, piano
* Gürzenich Orchestra of Cologne/Lionel Bringuier
Decca Classics 4785332
This is a lovely program that shows off the undimmed poetic genius of both composer and pianist. Decca Classics paid an unexpected tribute to pianist Nelson Freire in 2014 with 4786772, a rewarding collection of the artists' earlier radio broadcasts. Now we get another fine Chopin disc, containing the (earlier) Op. 21 Concerto to compliment the First Concerto on the "Radio Days" set. Of course, Freire is a far older and seasoned artist now, and his wealth of experience with the composer (by his own admission, he was daunted by the Op. 11 Concerto upon first encounter) allows him to make up for any loss of fire with greater introspection and warmth.
If I had to choose, I would deem the solo selections the more important portion of this disc. It makes a delightful mini-recital. For several years now, Freire's relationship with Decca has deepened in such a way that collectors know his limited releases will all be of interest and quality. There is love here, an unquestionable affinity for the music at hand. While Freire brings his customary poetry and seriousness to the project, he doesn't downplay the strength of Chopin, either. Too often, we have a dichotomy; either pianists play the composer and a weak, pretty thing, or they bang away for show. Freire is far too experienced for either, and like Moravec before him, has long since mastered the balance between beauty of sound and the essential virtuosity these works require. The sound is quite fine, and each selection is well-shaped.
In the concerto, I'm a little less impressed. Everyone knows that – although recordings and time have been kind – the accompaniments for Chopin's two concertos are nothing special. Unfortunately, it seems to be something that young maestro Lionel Bringuier believes wholeheartedly. His Cologne forces are serviceable, but there are conductors who easily find more in this music, and while nothing can make them masterpieces of orchestral writing (Chopin basically avoids it after the introductory portions, anyways), there are ways to be more interesting. Giulini, Mehta, and others prove far more engaged. Still, nobody really cares about the orchestral contributions, and Freire does at least get the conductor to stay out of his way so that he can spin melody after melody. The overall impression isn't the best ever, but for the piano playing, I was certainly happy to have heard this disc. While the solo works feature clear and spacious sound, the Concerto is a hair mushy. No matter, this is worth it for Freire.
Copyright © 2015, Brian Wigman