Related Links
Recommended Links

Site News
CD Review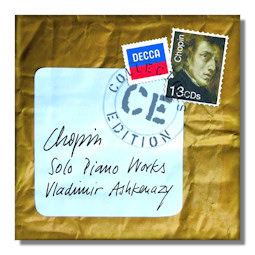 Album Leaf in E Major, B 151
Allegro de concert in A Major, B 72/Op. 46
Ballade #1 in G minor, B 66/Op. 23
Ballade #2 in F Major/A minor, B 102/Op. 38
Ballade #3 in A Flat Major, B 136/Op. 47
Ballade #4 in F minor, B 146/Op. 52
Barcarolle in F Sharp Major, B 158/Op. 60
Berceuse in D Flat Major, B 154/Op. 57
Bolero in C Major/A Major, B 81/Op. 19
Bourées (2), B 160b
Cantabile in B Flat Major, B 84
Contredanse in G Flat Major, B 17
Ecossaises (3), B 12/Op. 72 #3
Etudes (12), Op. 10
Etudes (12), Op. 25
Fantasie in F minor/A Flat Major, B 137/Op. 49
Fugue in A minor, B 144
Funeral March in C minor, B 10/Op. 72 #2
Galop Marquis in A Flat Major
Impromptu #1 in A Flat Major, B 110/Op. 29
Impromptu #2 in F Sharp Major, B 129/Op. 36
Impromptu #3 in G Flat Major, b 149/Op. 51
Impromptu #4 in C Sharp minor, B 87/Op. 66 "Fantaisie-Impromptu"
Introduction in C minor & Rondo in E Flat Major, B 76/Op. 16: Rondo
Largo in E Flat Major, B 109
Mazurka in A Flat Major, B 85
Mazurka in A minor, B 134 "Notre temps"
Mazurka in A minor, B 140 "À Émile Gaillard"
Mazurka in B Flat Major, B 73
Mazurka in B Flat Major, B 73
Mazurka in C Major
Mazurka in D Major, B 4
Mazurka in D Major, B 71
Mazurkas (2), B 16
Mazurkas (3), B 145/Op. 50
Mazurkas (3), B 153/Op. 56
Mazurkas (3), B 157/Op. 59
Mazurkas (3), B 162/Op. 63
Mazurkas (4), B 105/Op. 30
Mazurkas (4), B 115/Op. 33
Mazurkas (4), B 60/Op. 6
Mazurkas (4), B 77/Op. 17
Mazurkas (4), B 89/Op. 24
Mazurkas (4), Op. 41
Mazurkas (4), Op. 67
Mazurkas (4), Op. 68
Mazurkas (5), B 61/Op. 7
Nocturne in C minor, B 108
Nocturne in C Sharp minor, B 49
Nocturne in E minor, B 19/Op. 72 #1
Nocturnes (2), B 106/Op. 32
Nocturnes (2), B 142/Op. 48
Nocturnes (2), B 152/Op. 55
Nocturnes (2), B 161/Op. 62
Nocturnes (2), Op. 27
Nocturnes (2), Op. 37
Nocturnes (3), B 54/Op. 9
Nocturnes (3), Op. 15
Nouvelles Etudes (3), B 130
Polish Song "Spring", B 116/Op. 74 #2
Polonaise in A Flat Major "Heroic", B 147/Op. 53
Polonaise in A Flat Major, B 5
Polonaise in B Flat Major, B 3
Polonaise in B Flat minor "Adieu", B 13
Polonaise in F Sharp minor, B 135/Op. 44
Polonaise in G Flat Major, B 36
Polonaise in G minor, B 1
Polonaise in G Sharp minor, B 6
Polonaises (2), B 90/Op. 26
Polonaises (2), Op. 40
Polonaises (3), Op. 71
Prelude in A Flat Major, B 86
Prelude in C Sharp minor, B 141/Op. 45
Preludes (24), Op. 28
Rondo for 2 Pianos in C Major, B 27/Op. 73 *
Rondo in C minor, Op. 1
Rondo in F Major "à la Mazur", B 15/Op. 5
Scherzo #1 in B minor, B 65/Op. 20
Scherzo #2 in B Flat minor/D Flat Major, B 111/Op. 31
Scherzo #3 in C Sharp minor, B 125/Op. 39
Scherzo #4 in E Major, B 148/Op. 54
Sonata #1 in C minor, B 23/Op. 4
Sonata #2 in B Flat minor "Funeral March", B 128/Op. 35
Sonata #3 in B minor, B 155/Op. 58
Tarantella in A Flat Major, B 139/Op. 43
Variation in E Major (from Hexmeron)
Variations for 2 Pianos in D Major *
Variations in A Major "Souvenir de Paganini", B 37
Variations in B Flat Major on a theme from Hérold's "Ludovic", B 80/Op. 12
Variations in E Major on "Steh' auf, steh' auf o du Schweitzer Bub"
Waltz in A Flat Major "Grande Valse", B 131/Op. 42
Waltz in A Flat Major, B 21
Waltz in A minor, B 150
Waltz in E Flat Major "Sostenuto", B 133
Waltz in E Flat Major, B 46
Waltz in E Flat Major "Grande valse brillante", B 62/Op. 18
Waltz in E Major, B 44
Waltz in E minor, B 56
Waltzes (2), Op. 69
Waltzes (3), B 164/Op. 64
Waltzes (3), Op. 34
Waltzes (3), Op. 70
Vladimir Ashkenazy, piano
* Vovka Ashkenazy, piano
Decca Collectors Edition 4782282 ADD/DDD 13CDs
If you already own the old blue and white box that housed these 13 CDs originally, a quick browse of other reviews and forum posts tells me that the sound has not been altered for any of these recordings. The notes are new, but unless you absolutely need every essay Universal has to offer, or prefer the admittedly nicer packaging, you can avoid this box entirely. However, there really is no better way in the Universal catalog to acquire all these works with one artist, and it's a bargain to boot.
There is really nothing that has so far convinced me one pianist can truly do the entire canon justice. I have always admired Rubenstein on RCA, but even he outdoes himself on EMI. Furthermore, I wouldn't want to be without Arrau, Argerich, and many others. Ashkenazy is a very solid choice. He can be inconsistent, perhaps more than one would wish. The biggest issue for me is this inconsistent nature within sets of works; few of them come together as a cohesive whole and command top status. Rather, individual pieces impress, as opposed to entire sections.
Thus, the Nocturnes must yield to Arrau, the Préludes to Argerich. The Waltzes don't trump Lipatti on EMI (what does?!) and the Études to Pollini. And yet, Ashkenazy surely demands our respect. Few pianists are less egotistical in this music, and if the results are somewhat matter-of-fact in places, nothing is ever pulled about or mannered. Nor does that imply any lack of individuality. Ashkenazy was arguably in his mature prime here, and his humanity meshes with formidable technique to create something very impressive. The sound, whether in late analogue or early digital, holds up very well. As a complete set of the solo piano music – the concerted works are absent, but not especially missed – this one has few peers. Biret on Naxos is maybe a touch more consistent, but possibly less interesting. Despite not being a top recommendation for any of the major works, each set has something special within, and will provide endless hours of enjoyment.
Copyright © 2014, Brian Wigman