CD Review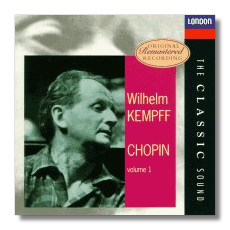 Wilhelm Kempff Plays Chopin
Sonata #2 in B Flat minor, Op. 35
Impromptu #1 in A Flat Major, Op. 29
Impromptu #2 in F Sharp Major, Op. 36
Impromptu #3 in G Flat Major, Op. 51
Fantasie-Impromptu #4 in C Sharp minor, Op. 66
Berceuse in D Flat Major, Op. 57
Barcarolle in F Sharp Major, Op. 60
Nocturne in B Major, Op. 9 #3
Scherzo #3 in C Sharp minor, Op. 39
Wilhelm Kempff, piano
Recorded February 1958
Originally released on SXL2025 and SXL2024
London 452307-2 ADD 68:01
Today, I happened to see a very intriguing disc. Decca has reissued some of Wilhelm Kempff's recordings of Chopin from 1958. The first piece on the CD is the Sonata #2, which happens to be one of my favorite pieces (along with all the sonatas of Beethoven, Schubert, and Mozart…) and something of a test for performers. Once in a while it's a test for the listener, too.
I really couldn't imagine Kempff playing Chopin, in spite of his excellence at Beethoven, Brahms, and Schubert, so I had to hear it. Perhaps I was biased by my modest expectations, but I have to give this one a very poor rating.
The first movement begins in a very promising way, with strength and elegance. Within a few bars, however, Kempff begins to miss notes, generally in the stretti passages. This quickly becomes a wayward, haphazard attempt at a performance. The emotional center of gravity in this movement is bars 138-153, a great challenge and opportunity for the interpreter, and here Kempff gets completely lost. He misses many notes, especially in the left hand octaves, and worse, he holds back both volume and tempo. Where Pollini or Sokolov can make this passage shine with an exquisite clarity, Kempff is a mess. For the rest of the movement, the fast passages are rushed, at best, while many of the quieter passages have the eloquence so common in Kempff's other recordings.
The second movement is somewhat less demanding and less problematic, though there are still many missed notes and a general sameness of rhythm. The "piu lento" is too fast - in fact it sounds more like a waltz in strict tempo.
The famous funeral march is indeed stiff. The middle passage (bars 31 -38) are sweetly played but the return of the main motif is murky, with the bass notes overemphasised.
And the finale is a washout, too slow (possibly the slowest I've heard), with notes detached, not legato. Kempff seems confused, directionless. He's tiptoeing past the graveyard while the wind whistles past his ears.
As for the rest of the disc (the four Impromptus, Berceuse, Barcarolle, Scherzo #3, etc.) recorded the same year but possibly at a different session, these performances are wonderful. No problems at all, only a few slight technical problems in the Scherzo, and no interpretive gaffes. How can this be? It's almost like two different performers. The Sonata has all of Kempff's shortcomings displayed at their worst - rigidity, literalness, dry tone. But he's obviously capable of playing Chopin nearly as well as any other German of his generation.
Copyright © 1997, Paul Geffen