CD Review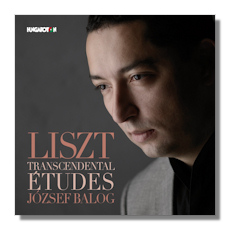 Études d'exécution transcendente, S. 139
Preludio in C Major
Molto vivace in A minor
Paysage in F Major
Mazeppa in D minor
Feux-follets in B Flat Major
Vision in G minor
Eroica in E Flat Major
Wilde Jagd in C minor
Ricordanza in A Flat Major
Allegro agitato molto in F minor
Harmonies du soir in D Flat Major
Chasse-neige in D Flat Major
József Balog, piano
Hungaroton HCD32736 67:50
József Balog (b. 1979 in Budapest) has won several prestigious competitions, including the 2001 Bartók-Liszt International Piano Competition and the 2007 Franz Liszt International Piano Competition. He has made more than a half dozen recordings and is probably best known for his performances of Liszt, Chopin, and Bartók, though his repertory is fairly broad, taking in various composers from Bach to Gershwin as well as contemporary ones. Here, in the challenging Liszt Transcendental Etudes, the pianist offers perhaps his most important recording to date. From the evidence here, one can safely conclude that Balog comes across as a highly intelligent and sensitive interpreter who possesses a formidable technique.
He tends to manipulate tempos very slightly here, sometimes holding back a bit and sometimes pushing ahead. He's not excessive, and this tendency often works well, though not always. His dynamics also range widely, with pianos sounding very soft in many instances, his fortes rarely too potent. Balog is both imaginative and discerning in his use of the pedal: he often creates a sort of creamy tone, but when not employing much pedal his playing sounds crisp, not blunt or clangorous. In short, he plays with nuance, subtlety and imagination.
The first two etudes, the shortest and arguably least important of the twelve (the First is really a warmup piece), are certainly well played and both come across as a bit more consequential here. Paysage is beautifully phrased and Mazeppa fiery, dramatic and exciting. Feux follets, though, is played in a way that doesn't quite allow the music to coruscate playfully and mysteriously, as it should. While its tempo is well within the Allegretto range, it needs a little more lift and spirit, though arguably Balog's performance is convincing in its own somewhat restrained way. Vision is ominous and stately, quite impressive here. Balog's Eroica is strong if a bit choppy, but his Wilde Jagd is very impressive: it's a tad quirky but very imaginative and colorful and his phrasing of the middle section theme is brilliant in its initially reticent and nervous character. Ricordanza, which can sound mawkish and saccharine in the wrong hands, comes across as more substantive here because of Balog's less fluid style of phrasing and his tendency to play up the occasionally disruptive elements. Thus, he makes a strong case for what may be the least effective of the longer pieces in the set.
The Tenth prelude is passionate and well played but perhaps a little short on excitement at the end. Balog gives one of his best performances in Harmonies du soir, phrasing the main theme in its various guises with impeccable dynamics and a good balance of elegance and passion. Chasse neige brims with tension and foreboding in the building tremolos and threatening swirls.
Overall, this is a fine account of the Transcendental Etudes from József Balog. The pianist is aided by very clear and well balanced sound reproduction by Hungaroton. As for comparisons, I would have a preference for Ovchinikov, Arrau, and possibly Beresovsky (Apex 2564-67716-5), but Balog is very tasteful, often quite imaginative and certainly interesting enough for Liszt mavens and others to seek out. Recommended as a strong alternative.
Copyright © 2015, Robert Cummings