CD Review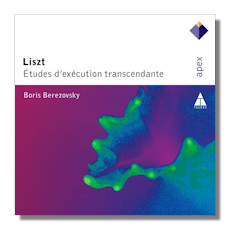 Études d'exécution transcendente, S. 139
Preludio in C Major
Molto vivace in A minor
Paysage in F Major
Mazeppa in D minor
Feux-follets in B Flat Major
Vision in G minor
Eroica in E Flat Major
Wilde Jagd in C minor
Ricordanza in A Flat Major
Allegro agitato molto in F minor
Harmonies du soir in D Flat Major
Chasse-neige in D Flat Major
Boris Berezovsky, piano
Apex (Teldec) 2564-67716-5
Originally issued in 1996, Berezovsky's version of the Transcendental Etudes is, at 60:26, perhaps the fastest ever recorded. In fact, of the half-dozen or more complete renditions I have, this is the fleetest by far. With Russell Sherman (Vanguard), at the other end, clocking in around seventy-five minutes, and the brisk Jenő Jandó (Naxos 8.553119) and Vladimir Ovchinikov (EMI CDC749821-2) both around sixty-four minutes, one might suspect that Berezovsky's version is comparatively a NASCAR-inspired run-through. But his readings are brilliantly imagined and rarely does he sound too fast.
His Feux follets (where you need considerable technique) is not just fleet but light and shimmering, with cascades of notes running delightfully in all directions. In the ensuing piece, Vision, Berezovsky turns in a brooding and ominous account that brims with dark atmosphere. His Eroica is masterly in its contrasting dynamics, and his Wilde Jagd certainly lives up to the marking of Presto furioso, although his middle section may be a tad fast.
Ricordanza, a typically sentimental Liszt piece, is given a gentle treatment, with filigree sounding less schmaltzy than Impressionistic. In fact, if I had to give a tag to Berezovsky's style throughout these twelve challenging works, the word "Impressionistic" would come to mind. He often suggests pictures or moods in misty sonorities, or in splendidly-controlled dynamics, or in torrents or rushes of notes, or in all of these things in the same piece.
The set's closing etude, Chasse-neige (Snow storm), sounds nervous and threatening in initially hushed tones, as if a quiet tsunami of snow is growing toward avalanche proportions. The preceding piece, Harmonie du soir, gets a lush reading, with the echo effect of the main theme coming across especially well. With generally restrained dynamics Berezovsky heightens the explosive climax in this Liszt masterpiece.
In the earlier etudes, Paysage and Mazeppa, Berezovsky deftly catches the poetry and ecstasy of the former, as well as the menace and diabolical character of the latter. The sound is clear and powerful. In sum, this is one of the better versions of the Transcendental Etudes, standing with those of Ovchinikov and Arrau (Philips).
Copyright © 2011, Robert Cummings.