CD Review
EMI Gemini Reissues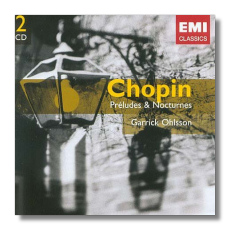 24 Preludes Op. 28
Prelude in C Sharp minor, Op. 45
Prelude in A flat Op. posth
3 Nocturnes, Op. 9
3 Nocturnes, Op. 15
2 Nocturnes, Op. 27
2 Nocturnes, Op. 32
2 Nocturnes, Op. 37
2 Nocturnes, Op. 48
2 Nocturnes, Op. 55
2 Nocturnes, Op. 62
2 Nocturnes, Op. 72
Nocturne in C Sharp minor, Op. posth
Nocturne in C minor, Op. posth
Garrick Ohlsson, piano
EMI Classics Gemini 586507-2 ADD 2CDs: 77:08, 74:47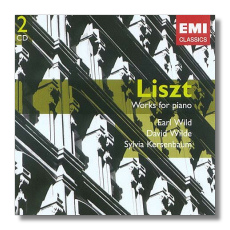 Ballade for Piano #2 in B minor, S. 171
Tarantelle di bravura "La Muette di Portici", S. 386
Petrarca Sonnet, S. 158 #2, Sonetto 104
Petrarca Sonnet, S. 158 #3, Sonetto 123
Valses oubliées, S. 215 #1 in F Sharp Major
Transcendental Etude after Paganini, S. 140 #3 "La Campanella"
Transcendental Etude, S. 139 #5, Feux follets
Transcendental Etude, S. 139 #9, Ricordanza
Transcendental Etude, S. 139 #3, Paysage *
Transcendental Etude after Paganini, S. 140 #5 "La Chasse" *
Concert Etude, S. 145 #1, Waldesrauschen *
Concert Etude, S. 145 #2, Gnomenreigen *
Rhapsodie espagñole, S. 254 *
Isolde's "Liebestod" from Wagner's "Tristan", S. 447 *
Réminiscences de Norma (Bellini), S. 394 *
Hexaméron, S. 392 **
Réminiscences de "Robert le Diable": Valse infernale, S. 413 **
Polonaise from Tchaikovsky's "Eugene Onegin", S. 429 **
Earl Wild, piano
* David Wilde, piano
** Sylvia Kersenbaum, piano
EMI Classics Gemini 586522-2 ADD 2CDs: 74:53, 78:09
Garrick Ohlsson won the Warsaw International Chopin Competition in 1970 – the first American to have done so. Audiences and judges were delighted with his playing, which was conservative and middle-of-the-road in the best possible way. Upon his return to the United States, he was engaged (no surprise here) to make a series of Chopin LPs for Angel/EMI Classics. Then, in the digital age, he repeated the process for the Arabesque label, recording a complete (or nearly so) cycle of Chopin's piano works.
The Preludes were recorded in 1974; the Nocturnes, between 1977 and 1979. Together, they make a well-filled pair of CDs. The Preludes are more distinctive. Ohlsson is not afraid to be ugly (the A-minor prelude) or brusque (the one in G minor), although he also can play the music prettily, and with the requisite romantic passion. There's no weakness in his technique, and if he doesn't scale the peaks of excitement reached in his live Warsaw performances, there's something here for everyone. Ohlsson is not so varied in the Nocturnes. On the surface, that seems perfectly predictable, although there have been pianists (Claudio Arrau, for example, in his final complete recording of the set) who took a kind of Jekyll-and-Hyde approach to music traditionally (but wrongly, I think) viewed as pretty. Ohlsson is content to give us gorgeous surfaces, which can be quite enough. Those who want a more soul-disturbing traversal of these works should look to Arrau or Idil Biret. The analogue sound (newly remastered, apparently), is fresh and attractive on this pair of CDs.
The Liszt release is taken from three separate LPs originally recorded in 1968 (Wild), 1972 (Kersenbaum), and 1973 (Wilde). As listed above, the first eight selections are played by Earl Wild, the next seven by David Wilde, and the last three by Sylvia Kersenbaum. All three pianists still are with us; Wild, the eldest, just celebrated his 90th birthday, and he continues to perform the most technically demanding music.
Many people will want this set solely for Earl Wild's contribution, and they will be right to do so. Wild was in peak condition in 1968, and there are few pianists who reveal the profundity in virtuosity the way that he can. No matter how frilly Liszt's writing is (and Wild is not afraid to make it frillier yet), Wild doesn't forget to treat it seriously, nor does he forget to make it fun. The listener's pulse races, and yet his intelligence is not insulted. Have we had a better Liszt player in the second half of this century? Other pianists (György Cziffra, Jorge Bolet) have excelled in one piece or another, but Wild's all-around achievement in this repertoire can't be gainsaid.
David Wilde's biggest claim to fame was his participation as the soundtrack pianist in the Ken Russell film Lisztomania, a typically outrageous artifact of its time (the early 1970s) and from this iconoclastic director. (The Who's Roger Daltrey as Liszt?) Wilde acquits himself well in these seven works, but with nowhere near the authority of Earl Wild. Even next to Lazar Berman in the Rhapsodie espagñole, for example, David Wilde is pretty clattery and tame. The Buenos Aires-born Sylvia Kersenbaum has spent the last 25 years teaching at Western Kentucky University. She makes a more positive impression than Wilde, and who could not enjoy the increasingly frenetic Valse infernale from Meyerbeer's Robert le diable as transcribed by Liszt? Again, she does not connect the shallow with the deep with Earl Wild's all-encompassing vision, but in a more small-scaled way, these are enjoyable performances. Unfortunately, Kersenbaum seems to have been shortchanged by the audio engineers at the original recording sessions. Wild and Wilde are much better recorded. With the exception of the Hexaméron, these all are new digital remasterings.
Both of these sets are from EMI Classics' "Gemini" series – 2 discs for the price of a single mid-priced disc. Many of the "Gemini" releases are unbeatable bargains, and given the speed with which EMI removes titles from its catalogue, you are advised not to wait too long.
Copyright © 2005, Raymond Tuttle