Related Links
Recommended Links

Site News
CD Review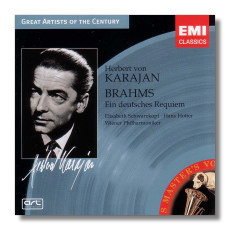 Ein deutsches Requiem Op. 45
Elisabeth Schwarzkopf, soprano
Hans Hotter, baritone
Singverein der Gesellschaft der Musikfreunde in Wien
Vienna Philharmonic Orchestra/Herbert von Karajan
EMI Great Artists of the Century 562811-2 76m ADD Rec: 1947
This legendary recording has appeared in a number of guises and formats over the years and this its latest incarnation in a supposedly much improved 'Abbey Road Technology' remastering. The real gem remains the classic pairing of Karajan and Schwarzkopf and also the inimitable Hans Hotter.
Much has been said about the hardships endured by those recording this work in unheated halls but the music truly transcends all these quibbles. The palpable opening of 'Selig sind die da Lied tragen' is superbly handled by Karajan as the work only seems to grow in towering and titanic intensity in the second and third movements.
The VPO are also beautifully on song and the result is a swan song of incredible proportions. Schwarzkopf and Hotter sing with absolute authority and this remains one of the greatest recordings of this work ever although the sound is slightly constricted. The booklet has a surprisingly short essay by Karajan biographer, Richard Osborne and numerous photographs. If you didn't buy this recording in its first incarceration then you should not hesitate this time round.
Copyright © 2004, Gerald Fenech