Blu-ray Review
Bloody Daughter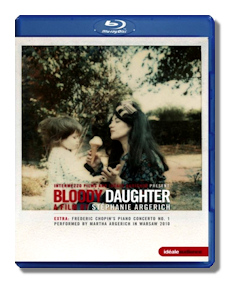 A Film by Stephanie Argerich
Documentary film includes excerpts of music by Chopin, Prokofiev, Ravel, Mozart, et. al.
Bonus Track: Frédéric Chopin: Piano Concerto #1
Martha Argerich, piano
Sinfonia Varsovia Orchestra/Jacek Kaspszyk
Recorded Live August 27, 2010 at Philharmonic Hall, Warsaw, Poland
EuroArts/Idéale Audience Blu-ray 3073904 94m (54m concert) LPCM Stereo DTS-HD Master Audio
This is one of the most unusual videos of its kind that I have ever seen. It is not, to be accurate, a biography or sketch of the life of pianist Martha Argerich, but a collection of scenes and recollections about her life and of those close to her, like her daughter Stephanie Argerich-Blagojevic who made the film, her other daughters, Annie Dutoit and violist Lyda Chen, and her one-time lover, pianist Stephen Kovacevich (once known as Stephen Bishop, and then Bishop-Kovacevich). The title of the film is obviously unusual and refers to Stephanie, who was given the nickname of "bloody daughter" in an endearing way (as explained by Kovacevich, her father), though its complete origins are never made clear.
Events in Argerich's life appear in an episodic way in the film, or so it seems. Yet everything fits together nicely. There is a wealth of information about Argerich's background and sometimes troubled life in the film that her fans will find absorbing, such as details of the kidnapping of her youngest daughter Lyda, who was taken by Argerich's mother from a home for children and given over to Argerich who then eventually had to surrender custody. We see puzzles about Argerich's life too: for example, Argerich, a cancer survivor, is a smoker! Her cancer, a melanoma, had spread to a lung in 1995, and surgery as well as experimental therapy at the John Wayne Cancer Center saved her life. We also learn about the men in Argerich's life: beside Kovacevich, there were her first two husbands, the conductors Robert Chen and Charles Dutoit (fathers of her older daughters), and pianist Michel Beroff. Though Chen, Dutoit and Beroff are seen in footage or photographs in the film, they do not take active part in current or recent scenes. Kovacevich does, however, and thus we learn something about his personality and personal tastes.
Some of the events or relationships I have mentioned may give the impression that this film has a tabloid kind of quality about it. It doesn't, but neither does it gloss over unflattering facts about Argerich or others in the film. Also, while there are many musical excerpts in the video from works by Chopin, Prokofiev, Ravel, Mozart and others, no piece is shown in a complete performance. That said, it's a fascinating film and should appeal to a broad range of music lovers, not least because the bonus feature offers a scorching performance by Argerich of the Chopin First Piano Concerto, followed by two brief encores: Chopin's Mazurka, Op. 24 #7 and Schumann's Traumeswirren, Op. 12 #2. Jacek Kaspszyk draws spirited and accurate performances from the orchestra and the sound and camera work for this 2010 concert from Warsaw's Philharmonic Hall are excellent. Actually, these performances are so outstanding by both pianist and orchestra that it has struck me that many who purchase this video package will likely do so primarily because of the bonus track offerings. How often does that happen?
Back to Bloody Daughter…. Most of the film is in French, with the rest in English. There are, of course, subtitles. In the end, what I find most surprising about the film is that Argerich has allowed so much of her life to be presented in a very candid and not necessarily sympathetic way. Granted, her daughter as the filmmaker is very close to Argerich and thus a faithful supporter, but she is also very observant and discerning, aware that a depiction of her mother as a saint would be akin to a made-to-order promotional film largely bereft of artistic merit. As it is, this film is a great achievement, showing among other things both the humanness and humanity of Martha Argerich, while alerting the world to the film-documentary talents of her daughter Stephanie.
Copyright © 2014, Robert Cummings