Related Links
Recommended Links

Site News
CD Review
Stokowski Conducts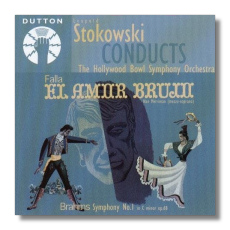 Hollywood Bowl Symphony Orchestra/Leopold Stokowski
Dutton CDBP9705 67m ADD Recorded: 1945
Stokowski's recordings with the Hollywood Bowl orchestra have already acquired legendary status and it is more than welcome to have a part of them issued on Dutton's budget label.
The charismatic conductor was fond of Falla's opulent orchestration as is demonstrated in 'El amor brujo' with Nan Merriman singing the solo parts. The famous Ritual Fire Dance has all the passion of the Iberian Peninsula whilst each and every individual scene has the Stokowski touch with its long drawn lines and over sumptuous orchestration. The 1946 recording comes up as strikingly clear.
Brahms' First was another Stokowski favourite and this 1945 version is one of his best. There is a grand tension in the titanic opening movement that develops with irresistible momentum. The Andante sostenuto is coolly collected with a beautiful solo violin whilst the Finale is dramatic enough without being too overtly bombastic. I marginally prefer Eduard van Beinum's contemporaneous Decca recording (also on Dutton) but this Stokowski version is also well-nigh irresistible.
Dutton has resurfaced with notes from the original 78's and the period 'feel' in the packaging is indeed attractive. Here's to more Stoki from this excellent source!
Copyright © 2004, Gerald Fenech