Related Links
Recommended Links

Site News
CD Review
A Night at the Opera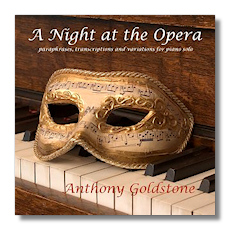 Opera Paraphrases
Concert Paraphrase on Verdi's "Rigoletto"
Reminiscences of Bellini's "Norma"
Willibald Gluck: Melodie from "Dance of the Blessed Spirits" from "Orpheé et Euridice" (arr. Sgambati)
Frédéric Chopin: Variations on "Là ci darem la mano" from Mozart's "Don Giovanni"
Nicolai Rimsky-Korsakoff: "The Bumble Bee" from "Tale of Tsar Saltan" (arr. Rachmaninoff)
Percy Grainger: Ramble on the Last Love-duet in "Der Rosenkavalier" by Richard Strauss
Ferruccio Busoni: Chamber Fantasy on Bizet's "Carmen"
Richard Wagner: "Isolde's Liebestod" from "Tristan und Isolde" (arr. Liszt)
Felix Mendelssohn: Fantasy on "The Last Rose of Summer" (later used in "Martha" by Flotow), Op. 15
Alfred Grünfeld: Soireé de Vienne, Op. 56; Concert Paraphrase on Johann Strauss' Waltz Motives from "Die Fledermaus" etc.
Anthony Goldstone, piano
Divine Art DDA25067 79m DDD
This disc is a pure delight from start to finish. With its evocative cover and dazzling range of virtuoso pieces, it should be one of the piano highlights of the year. The indefatigable Anthony Goldstone also writes the extensive and detailed programme notes which are an important introduction for the prospective listener.
Franz Liszt is an obvious part of any self respective piano transcription disc and here we have his famous Concert Paraphrase from "Rigoletto" and his equally famous rendition of Bellini's "Norma". It goes without saying that Goldstone is up to the immensely difficult task, even to my mind surpassing the great Leslie Howard is his complete piano music survey of the composer on Hyperion.
The other extensive work, lasting almost 17 minutes is Chopin's mammoth transcription from Mozart's "Don Giovanni". The theme, "Là ci darem la mano" traverses various emotional gamuts and is brought to a suitably barnstorming end by Goldstone. The titbits are also extremely enjoyable, including Gluck's "Dance of the Blessed Spirits", Rimsky-Korsakoff's "Flight of the Bumble Bee" and the wonderful arrangement by Liszt from Wagner's "Tristan und Isolde", a tear jerker if there ever was any.
Busoni, Grunfeld, Mendelssohn and Grainger complete this hugely enjoyable disc which is jam packed at just 30 seconds less than 80 minutes long. This is one for a warm evening by the fire with the coffee cups coming and with the glorious virtuosity of Anthony Goldstone to round off that perfect experience. This is truly an essential purchase for lovers of good operatic and piano music.
Copyright © 2008, Gerald Fenech