CD Review
Live from White Nights in St. Petersburg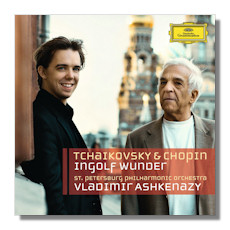 Ingolf Wunder, piano
St. Petersburg Philharmonic Orchestra/Vladimir Ashkenazy
Recorded Live 2012
Deutsche Grammophon 4790670 72:40
Curiously for a great virtuoso and noted Russian conductor, the aging Ashkenazy has had little to do with Tchaikovsky's Piano Concerto #1. He made only one studio recording as a pianist, with the late Lorin Maazel. A rare foray outside of Decca saw him as a conductor for pianist Andrei Gavrilov. Otherwise, he's not paid the piece much attention. Ingolf Wunder is a fellow Van Cliburn winner and yet another up-and-coming hotshot. How does this combination go? That depends on what you want.
The fireworks are impressive. Wunder has a huge and commanding tone, well recorded given the live circumstances. He plays excitingly and with conviction. In the "big" moments, the pianist relishes the spotlight. Elsewhere, he plays like a young firebrand…I'm less than convinced by the quieter moments, or by the somewhat mechanical feel of the finale. This isn't the most incisive view from the podium, either. Ashkenazy has become a less sympathetic collaborator as he's aged, and despite bringing out some fine details in the winds, I don't sense any real devotion to the music on his part. The orchestral forces are adequate, and let the pianist do the talking, which is fine in theory. A great performance however, holds just a little more.
If you want fiery, Horowitz still dazzles as the decades go by. Richter and Gilels represent the great Russian tradition in superior sound. For balletic grace, Cliburn still reigns supreme. While some conductors (notably Karajan and Szell) arguably bring less to the party than Ashkenazy does here, you'll find far more invested baton work from greats as diverse as Toscanini and the aforementioned Maazel. All told, this rendition will probably please Wunder's growing fan base, and the curious. But again, it's just short of great.
The filler is generous, and arguably more important, despite the fact that nobody will buy this disc for the Chopin. Ashkenazy's lone recording of Chopin as a pianist with orchestra (the Concerto #2) was ironically paired with his Tchaikovsky in later Decca issues, so it's been done before. Here, the orchestra plays more confidently and assuredly, with attention to details – and thus clarifying the much-maligned orchestral textures – as a main attraction. While never playing this work in a recording, Ashkenazy has directed it from the podium, and his fondness for the music at hand is rather more apparent here. As for Wunder, his obvious gifts for Chopin are fully on display. Here is more sensitive playing overall, although the young artist still brings out the forceful qualities of this music more than most. While not a top choice, it certainly enhances the appeal of the disc. Good, if not great, this album displays genuine talent and artistry.
Copyright © 2014, Brian Wigman